Så er der annonceret opdateret udgave af Razer's Wolverine i form af Razer Wolverine V2 Pro til PlayStation 5 og PC. Du skal have den store tegnebog op af lommen hvis du klikker ind på Razer's webshop for at anskaffe dette vidunder. Den står til €300 eller omkring 2.200 danske kroner.
Razer™, the leading global lifestyle brand for gamers, today announced the Wolverine V2 Pro, a feature-packed wireless Pro Gaming Controller for PS5™ Consoles* and PC. Featuring Razer™ HyperSpeed Wireless, Razer™ Mecha-Tactile Action Buttons, Razer™ HyperTrigger, an 8-Way Microswitch D-Pad, 6 Remappable Buttons and more, the new Razer Wolverine V2 Pro offers ultimate performance and control.
"The Razer Wolverine V2 Pro brings a whole new level of speed and consistency to competitive gaming," said Richard Hashim, Head of Mobile & Console Division, "It offers everything passionate console and PC gamers need to be on top of their game."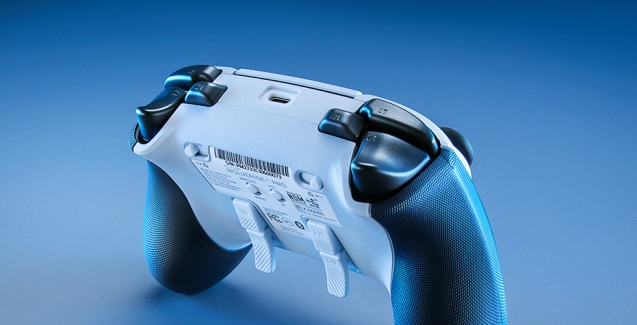 Complete Control
The Razer Wolverine V2 Pro is designed for optimal speed and control. The next-gen wireless pro controller is geared with Razer™ Mecha-Tactile Action Buttons with only 0.65mm actuation distance, 30% less than that of the average membrane controller, for quicker button presses and improved tactility to feel every input.
For articulate and precise control in fighting games, the 8-Way Microswitch D-Pad enables gamers to feel and hear every single directional press of the microswitches and allows for accurate and intentional moves when doing intricate combos.
Upgraded with Razer™ HyperTrigger technology, the Wolverine V2 Pro back triggers are perfectly geared for racing and FPS enthusiasts. With HyperTrigger, gamers can switch from measured full-range pulls for acceleration in racing games to lightning-quick clicks for quickfire execution that feel like the actuation in Razer's acclaimed gaming mice.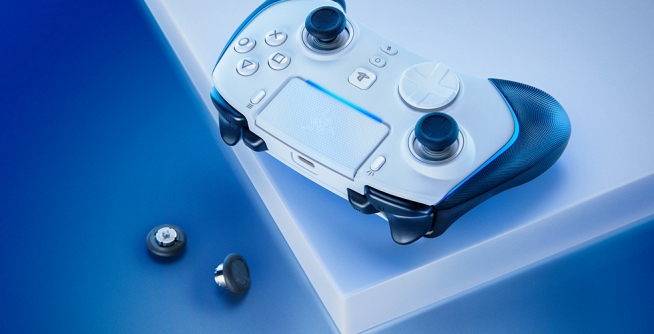 Complete Customizability
With 6 Remappable Buttons and Interchangeable thumbsticks, the Razer Wolverine V2 Pro also offers many customized layouts to suit every playstyle: Gamers can map its 4 extra triggers and 2 custom bumpers to their preferred commands, and further tailor the controller with 2 additional thumbstick caps for either more speed or precision.
For the extra pinch of personalization, the controller is powered by Razer Chroma™ RGB, offering over 16.8 million colors and a suite of effects via the Razer™ Controller app for iOS and Android.
Complete Connectivity
To further meet the demands of competitive gaming, the Razer Wolverine V2 Pro is equipped with Razer™ HyperSpeed Wireless. Delivering an ultra-fast 2.4GHz wireless connection via its included USB Type A dongle, the controller ensures seamless, low-latency performance on PS5™ consoles and PC.
* The Razer Wolverine V2 Pro is developed under the official licensing program for PlayStation™, and will work with PlayStation™5 subject to Sony Interactive Entertainment's final product approval. PC compatibility not tested nor endorsed by Sony Interactive Entertainment.
ABOUT THE RAZER WOLVERINE V2 PRO
Razer™ Mecha-Tactile Action Buttons
8-Way Microswitch D-Pad
6 Remappable Multi-Function Buttons
Razer™ HyperTrigger
3.5mm analog audio port compatible with PS5™ consoles and PC (Windows)
2 additional thumbstick caps (tall concave, short convex)
Razer™ HyperSpeed Wireless 2.4GHz USB Type A dongle
9.8 ft/ 3 m wired USB Type C to USB Type A cable
Approximate Size: 105.75mm / 4.16" (L) x 167.5 / 6.59" (W) x 65.2 / 2.56" (H)
Approximate Weight: 279 g / 0.61 lbs
System Requirement
PS5™ console or PC (Windows)
Internet connection for Razer™ Controller app on iOS and Android
Package includes
Razer Wolverine V2 Pro wireless pro gaming controller
Razer™ HyperSpeed Wireless 2.4GHz USB Type A dongle
9.8 ft/ 3 m wired USB Type C to USB Type A cable
2 additional thumbstick caps (tall concave, short convex)
Important Product Information Guide