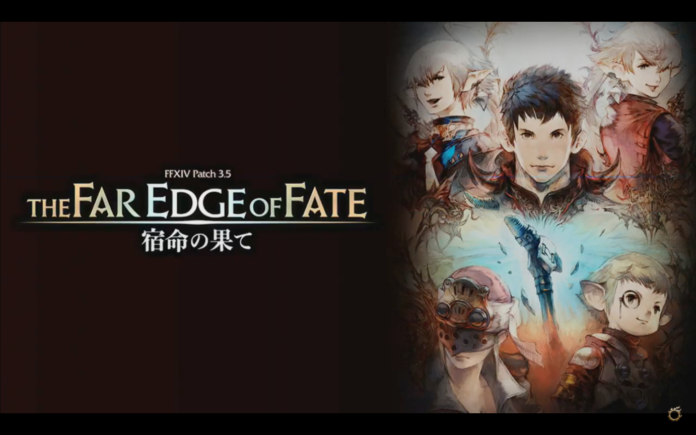 Så er patch 3.5 endelig landet til Final Fantasy XIV. Og vi kan med det samme sige at der er en masse nyt i vente i den patch.
Patchen ligger inde navnet "The Far Edge of Fate", og den har blandt andet nye Scenarios, Quests og meget mere. I kan se en liste over hvad patchen har at byde på lige her:
Main Scenario Quests: With the threat of the Warriors of Darkness vanquished, the Scions of the Seventh Dawn set their feet upon fate's path and gaze upon distant horizons.
New Alliance Raid: The hunt for Diablos continues in Dun Scaith, the latest 24-man raid and follow up to The Weeping City of Mhach. Players will venture to this island created by Mhachi sorcerers, now transformed into a haven for voidsent, with the hopes of vanquishing this powerful foe.
Containment Bay Z1T9: Adventurers will be able to confront Zurvan, the Demon—the final pillar of the Warring Triad—in both normal and extreme difficulties.
New High-Level Dungeons: Two new dungeons have been added for adventurers to challenge. Heroes can scale the towering Baelsar's Wall that separates the Garlean-controlled Ala Mhigo from the rest of Eorzea, and also revisit the sacred grounds of the dragons in Sohm Al (Hard), now in disarray following the defeat of Nidhogg.
New Side Quests: Hildibrand—agent of enquiry, inspector extraordinaire—returns for further adventures as he clashes with the Grand Sers to rescue the young Gigi. Additionally, new mysteries confront the students of Saint Endalim's Scholasticate—players must work with Inspector Briardien to uncover the culprit behind chaos that plagues the student body.
Garo Collaboration and PvP Updates: New PvP gear and mounts, modeled after character designs from the hit Japanese TV series Garo, will make their debut. Furthermore, new changes to PvP gameplay will allow players to duel opponents with synced item levels, as well as participate in the massive Frontline battles without being restricted to their Grand Company's allegiance.

Party Finder Updates: Adventurers will now be able to join forces with adventurers from other Worlds to take down the foes of Eorzea® using the expanded Party Finder. Additionally, the system will allow players to create parties which their friends can join using a special password.
Egi Glamours: Through completion of a new quest, summoners will now be able to change the appearance of their egi through a special text command. This initial update includes Emerald, Topaz, and Ruby Carbuncle models as glamour options, with more scheduled for future patches.
"The Far Edge of Fate" er som sagt ude nu til Final Fantasy XIV.