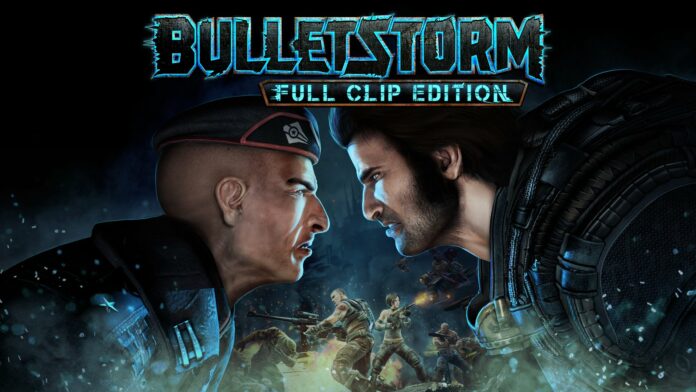 Sæt kryds i kalenderen 23. juni for her udkommer Bulletstorm: Full Clip Edition til PS4, XO og PC. Det bliver den helt store omgang med alt indhold og aftrækkeren i bund. Vi har sakset pressemeddelelsen:
Deep Silver and Gearbox Publishing team up to bring the critically acclaimed Bulletsorm: Full Clip Edition to European markets. Including the Duke Nukem's Bulletstorm Tour add-on, the game will release for PlayStation®4 computer entertainment system, Xbox One, and PC on June 23rd, 2017 in Continental Europe.
Bulletstorm: Full Clip Edition brings the game's beloved humor and gameplay, including the famous Skillshot mechanic, to a new level on PlayStation®4, Xbox One, and PC. Step into the boots of Grayson Hunt after a crash landing on an abandoned resort planet forces him to make a hard choice: survival or revenge. An exiled member of the elite assassin group Dead Echo, Grayson's blind desire for vengeance finds his crew stranded on Stygia where he can finally confront the commander behind his betrayal—or get his team off the planet alive.
In addition, the Duke Nukem's Bulletstorm Tour add-on lets players switch the main character of the game. Featuring new lines from the original voice of Duke, take control as Duke Nukem and replay the campaign with a fully rerecorded script as the King himselfBattle your way through throngs of Stygia's mutated inhabitants, performing masterful kills throughout the single-player campaign—or one of 30 competitive score-challenge or 12 co-operative multiplayer maps—usingBulletstorm: Full Clip Edition's unique "Skillshot" system that rewards you for executing the most creative and deadly kills imaginable.
Features List
Bulletstorm: Full Clip Edition is the definitive Bulletstorm experience that includes all existing Bulletstorm add-ons, plus brand-new exclusive content!
·  The Complete Experience
o Loaded with all of the original Bulletstorm and add-on experiences plus all-new content exclusive to Full Clip Edition! This definitive version brings a multi-playthrough campaign, 30 single-player Echo challenge maps, 12 co-op team-challenge maps, and more, all to your favorite modern platform
·  Killer Visuals and Audio
o Indulge your senses with updated models, environments, animations, and a new rendering mode, all running at a smoother frame rate than ever before—with 4K resolution support on PS4 Pro and PC—and lavishly remastered audio effects
·  New Overkill Campaign Mode
o Blast your way through a cranked-up version of the campaign with an unrestricted arsenal of weapons and Skillshots
·    New Echo Maps
o Showcase your skills on six brand-new levels exclusive to Full Clip Edition for the addictive score-based Echo Mode
·   Anarchy Loves Company
o Level up and cash in on your kills! Earn new weapon skins, leash styles, and character customizations as you progress through the team-challenge Anarchy mode
·    The Art of Destruction
o Unleash over-the-top kills by mixing fast-paced gunplay with unique kick, slide, and leash combos with Bulletstorm's distinctive 'Skillshot' system that rewards creative carnage
MODES
·    Campaign
o Battle your way through throngs of Stygia's mutated inhabitants, performing masterful kills throughout the single-player campaign using Bulletstorm: Full Clip Edition's unique "Skillshot" system that rewards you for executing the most creative and deadly kills imaginable
·    Overkill Campaign
o Complete the single-player campaign to unlock the cranked-up, unrestricted 'Overkill' Campaign Mode that provides unfettered access to all weapons and Skillshots starting from Act 1
·   Anarchy Co-op
o 4X the players and 4X the carnage! Shatter score goals as a squad of four by taking down 20 waves of enemies in 12 maps, performing Team Skillshots and unleashing the glorious Blood Symphony Skillshot along the way
·   Echo
o Kill with skill and climb the leaderboards across 30 Echo Mode challenge maps where your score is only limited by your kill-a-tivity