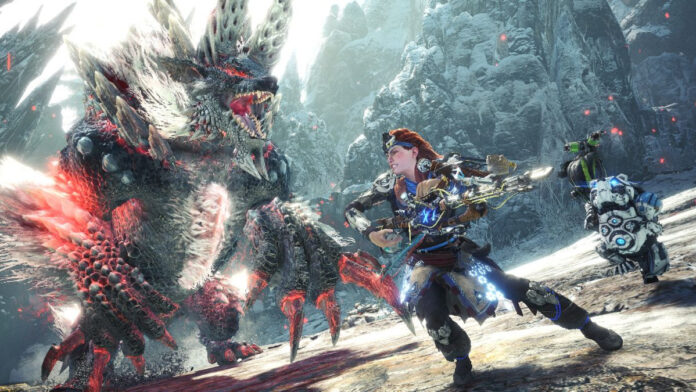 Så er den anden gratis opdatering ude til Monster Hunter World: Iceborne. Der er mere end-game indhold og bl.a. nye underarter som favoritten Zinogre, der er en Elder Dragon samt en helt ny region. Desuden er der på PlayStation udgaven et Horizon Zero Dawn event som du kan se i traileren her under.
New Challenges Await
Fan-favorite Zinogre originally charged into Iceborne with its electrifying attacks, and now a more vicious variant awaits. Stygian Zinogre harnesses dragon elemental instead of lightning this time around, so brave hunters will need to bring their Master Rank skills and strategize their approach in order to defeat this amped up beast. Those who are victorious will be rewarded with valuable materials to craft new and powerful equipment designed with an intimidating black and red palette.

A new Tundra Region expands the Guiding Lands end-game locale further with a snowy landscape that's home to bone-chilling monsters such as Barioth and Viper Tobi-Kadachi. As an added incentive, special materials exclusive to the Tundra Region can be used to increase the maximum level for weapon augmentation. On top of Stygian Zinogre and the Tundra Region, a tempered Elder Dragon is also being added to challenge hunters – Tempered Ruiner Nergigante.

Defender Weapons
For console hunters making their way through the main story in Monster Hunter: World, new Defender Weapons for all 14 weapon types are now available as part of the latest update. The weapons can be easily forged at the Smithy and are upgradable, becoming even more valuable for those currently playing World. Combined with the Guardian Armor set and the community-focused Hunter Helper feature, newer players can look forward to getting through World quickly and accessing the massive content that Iceborne has to offers.

More Horizon Zero Dawn™: The Frozen Wilds Collaboration Quests on PS4™ On the Way
The second round of Horizon Zero Dawn™: The Frozen Wilds collaboration quests for Iceborne will be available from 4pm PT on December 12 / 12am GMT on December 13. Players will get a chance to craft all-new themed equipment fashioned after the Shield-Weaver armor in Horizon Zero Dawn: The Frozen Wilds, and upgrade the Stormslinger weapon from the previous November quest. Palico companions can get special gear designed after Frostclaws, bear-like machines found in Horizon Zero Dawn: The Frozen Wilds. Plus, a third round of exclusive collaboration quests for PS4 players will be available from 4pm PT on December 26 / 12am GMT on December 27. This new event quest will reward players with special materials to craft the new Banuk α+ armor set. Iceborne players will also get an opportunity to upgrade Aloy's Bow and craft a new Felyne Watcher equipment, which were originally available in Monster Hunter: World, with Master Rank level stats.