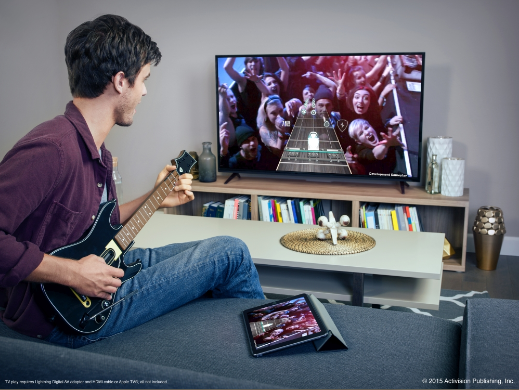 Efter lanceringen af Guitar Hero Live i sidste måned så er GHL nu også at finde på Apple TV. Du kan anvendes samme guitar på tværs af alle Apple platforme. Vi har sakset pressemeddelelsen:
Following last month's blockbuster return of Guitar Hero, the pop culture phenomenon played by millions across the globe, Activision Publishing Inc. announced today that in addition to select consoles and mobile platforms, Guitar Hero Live is now available on the new Apple TV. Co-developed by FreeStyleGames and Vicarious Visions, Guitar Hero Live for Apple TV delivers the ultimate rockstar experience in more ways than ever before.

"Guitar Hero is back and better than ever. And with the game available for Apple TV, we're able to deliver that visceral experience to so many more players," said Paul Springer, Sr. Vice President, Product Management at Activision Publishing, Inc. "Everybody deserves to feel like a rockstar, so now you can play Guitar Hero Live across your iPhone, iPad, iPod Touch or Apple TV. It's a perfect holiday gift for virtually anyone on your list."

Guitar Hero Live introduces a revolutionary new take on the music rhythm genre, delivering a console-quality experience on Apple TV with its two game modes: GH Live and GHTV. GH Live, a first-person perspective, live-action experience, delivers the full emotional roller coaster of being on stage and performing in a real band in front of real crowds that dynamically react to how well you play. GHTV, the world's first playable music video network, is a 24-hour game mode that lets fans play along to a continually-updated collection of official music videos, across a wide variety of genres. GHTV launched with more than 200 songs, with over 70 new songs to be added by the end of the year at no extra cost beyond the price of the game.

Guitar Hero Live features a newly designed guitar controller that features six buttons: two rows of three buttons that better reflect the way people naturally play and deliver more fun for players of all abilities. The guitar controller connects to your Apple device through Bluetooth, which lets fans seamlessly play across all of the following devices: Apple TV, iPad Air, iPad Air 2, iPad mini, iPad mini 2, iPad mini 3, iPad mini 4, iPad Pro, iPhone 5, iPhone 5s, iPhone 6, iPhone 6 Plus, iPhone 6s, iPhone 6s Plus and iPod touch 6. You can also play the mobile version without a guitar controller.