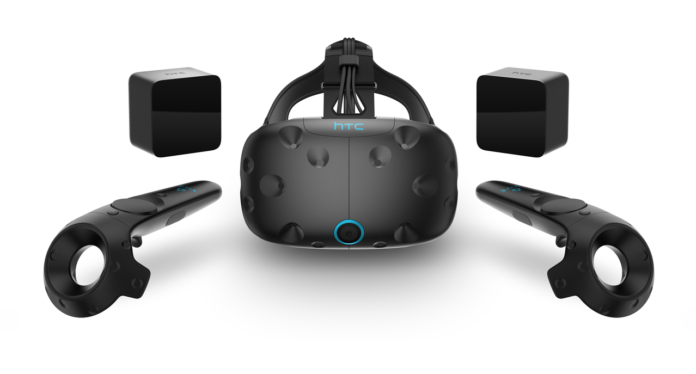 Det her er godt nok en annoncering til virksomheder meeen VR er jo det nye stort så vi har sakset nyheden om HTC Vive BE.
HTC LANCERER VIVE BUSINESS EDITION TIL VIRKSOMHEDER
For at komme den store efterspørgsel i møde lancerer HTC nu sin nye VR-tjeneste møntet på erhvervsbrugere, Vive Business Edition ("Vive BE").
Oversigt over Vive BE:
På lager fra juni 2016
Pris: €1.350 (ca. 10.000 kr.)
Et komplet Vive BE-system består af:
o   Vive BE-headset
o   2 stk. Vive BE-controllere
o   2 stk. Vive BE-basestationer
o   Vive BE 3-i-1 kabel
o   4 stk. Vive BE-ansigtspuder
Licens til kommerciel brug og dedikeret telefonisk Vive BE-erhvervssupport
12 måneders begrænset garanti
For de teknisk interesserede er her den engelske pressemeddelelese:
HTC Corporation ("HTC"), a pioneer in innovative, smart technologies, has today announced Vive Business Edition ("Vive BE") to capture the huge demand from industries worldwide to employ virtual reality technology in commercial applications.
Available from June 2016, Vive BE allows individuals and organizations to order Vive VR systems with additional services adapted for business and commercial environments. Alongside the full Vive VR system, Vive BE comes with commercial licensing, a dedicated Business Edition customer support line and a 12-month limited warranty. Businesses will be able to buy multiple Vive BE systems, with the option to order large quantities.
Daniel O'Brien, VP of VR at HTC said, "with Vive BE, we are answering the overwhelming demand from global industries for a complete VR experience, to provide innovative solutions for their business needs. Expediting the growth of partner organizations through application of Vive technology is an incredibly important part of our ongoing VR strategy, and will ensure Vive continues to be at the forefront of the enterprise sector."
Priced at €1,080 exclusive of VAT, features of Vive BE include:
Complete Vive BE System

Vive BE Headset
Vive BE Controllers x2
Vive BE Base Stations x2
Vive BE 3-in-1 Cable
Vive BE Face Cushions x4

Dedicated Vive Business Edition customer support line
12-month limited warranty (certain exclusions and limitations apply)
The announcement of Vive BE builds on HTC's existing network of commercial partners, spanning a wide range of industries from Automotive to Medical to Design. Among these partners include Dassault Systèmes, who developed the 3DEXPERIENCE platform as a collaborative virtual environment for businesses to create differentiating customer experiences. "Virtual reality has already proven its appeal among consumers and is now revealing its potential for enterprise," said Olivier Ribet, Vice President High-Tech Industry, Dassault Systèmes. "Vive helps us provide our customers from all industries with premium virtual reality experiences that offer unlimited perspectives to inspire product ideation and creation."
Vive is the only end-to-end VR platform capable of delivering room-scale technology, with the feature being readily adopted for use in the commercial space. Bob Pette, Vice President, Professional Visualization at NVIDIA commented, "Vive's room-scale VR, powered by NVIDIA Quadro GPUs, is a great way for professional users to work interactively and move around within their designs. From design to manufacturing to medicine, virtual reality will revolutionize how business gets done."
To request information about and order Vive BE, visit http://www.htcvive.com/us/enterprise/.