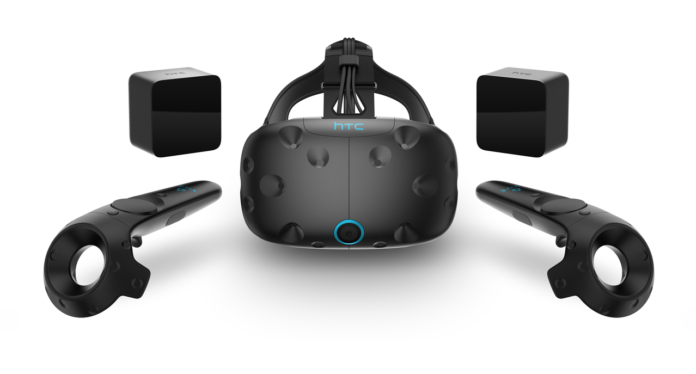 HTC Vive fejrer første år i markedet d. 5. april som  "Vive Day". Så overvejer du at anskaffe dig Vive så kig forbi hjemmesiden og læs hvordan du sparer 750 kr. Vi har sakset hele pressemeddelelsen:
HTC VIVE™, the leader in room-scale VR, today set out to thank its customers and celebrate the one-year anniversary of Vive's commercial ship date.  On Wednesday 5th April, customers can redeem a free copy of Vive Studios' VR action game Arcade Saga, and new customers will receive €100 off Vive on April 5th.
In addition, the company will launch Viveport Subscription on April 5th, introducing the first-ever subscription model for a VR app store. The service gives Vive owners a new way to navigate the burgeoning VR app marketplace and continually discover new content for a low monthly fee. Viveport Subscription will launch with a one month free trial offer for all new users.
"It has been an incredible year for VR and for VIVE in Europe as well as globally and it is great to see the huge steps forward that have been taken already," said Peter Frolund, VP of Sales and Marketing at HTC Vive (Europe). "VR is changing every industry imaginable, from gaming and entertainment, to art, design, engineering and education. The fact that we can offer a subscription model just shows the sheer amount of developers that have already engaged with VIVE. This celebration and these offers are a chance for us to thank the people that have been on this journey with us from the start, as well as invite new people to the party as we look ahead to even more exciting developments going forward."
Viveport Subscription
Making the first Vive Day one to remember is the launch of Viveport Subscription. On April 5, the service will introduce a new way to navigate the hundreds of apps currently available on Viveport. Viveport Subscription customers pay €7.99 a month and choose five titles from an ever-growing library of curated content. They get unlimited access to the apps they choose or they can rotate out their selection every month. All apps in the subscription service are also available for sale, letting customers try an app before they decide to buy.
For developers, the subscription model represents an additional revenue channel and a way to reach broader audiences. Viveport Subscription is launching with more than 50 titles available including must-experience VR apps such as TheBlu, Richie's Plank Experience, Everest VR, Fantastic Contraption, Mars Odyssey and more. Vive owners can take advantage of the free one month trial of the service by registering now at www.viveport.com.
"The marketplace for Vive apps has grown at a tremendous pace with more than 1,600 titles now available across different app stores and over 30 new apps launching daily," said Rikard Steiber, President of Viveport at HTC Vive. "The rapid growth of the app market is a win for VR overall yet it can present discoverability challenges that affect both customers and content creators. Introducing a subscription model to VR is a natural evolution of where this market is going, and as film, music and TV have proven it's becoming the preferred way customers want to explore and experience entertainment content."
Arcade Saga and more
It's not a birthday without gifts, and Vive Studios is giving back to Vive fans for a great first year. On April 5, all Vive purchasers can redeem a free copy of Vive Studio's fast-paced VR action game Arcade Saga, a €19.99 value, on Viveport.  Developed by HTC's internal studio 2Bears Studios, Arcade Saga has three distinct game types – Smash, Bowshot and Fracture that take inspiration from pinball, table tennis and archery, and add the physics and physicality of VR. Each game type has head-to-head online multiplayer and a campaign mode with 84 levels to master and massive, room-scale busting boss fights to overcome. To take advantage of this one day offer, visit Viveport.com or the Viveport desktop application on April 5.
Visit the Vive Blog for more on April 5th, including developer interviews, free downloads to mark the anniversary and more.