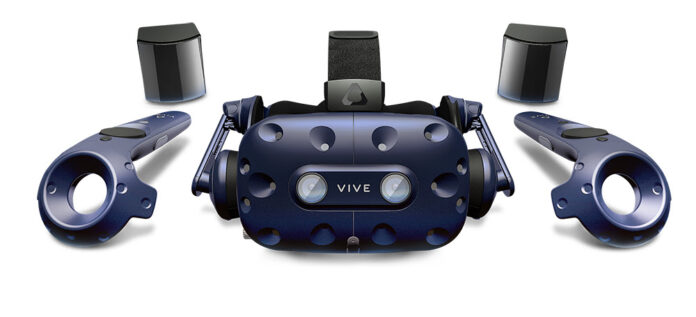 Arbejder du professionelt med VR så er HTC klar med anden udgave af deres Vive Pro. Den er rettet til det kommercielle marked og er i den noget dyrere ende set i forhold til deres konsummarket produkter.
VIVE Pro Innovates for Business
The Vive Pro provides the most complete experience available for businesses that use or are built on VR. The headset's superior resolution enhances immersion for commercial users, and the improved clarity means text, graphics and overall experience are true-to-life. Vive Pro also features integrated, high-performance headphones with a built-in amplifier for a heightened sense of presence and an overall richer sound which is critical for businesses using VR. The Vive Pro was strategically built with enhanced ergonomics to ensure long-wear comfort for professional users.
The Vive Pro 2.0 Kit retails for €1399 and includes the Vive Pro HMD, SteamVR tracking 2.0, two base stations and two controllers. Created for business-use, the out of the box work space is 6 x 6 meters and will support up to 10 x 10 meters with multiple base stations. Individual base stations will be available for purchase separately at a later date.
"Enterprise VR is developing rapidly, with a broad portfolio of use cases from architecture and design to simulation training. Vive's VR technology is creating new ways for companies to interact and collaborate with customers and employees," said Hervé Fontaine, VP Business Development and Enterprise, VIVE Europe. "We are bringing the market a premium VR experience with a high-resolution display, integrated high quality audio, premium ergonomics and an extended tracking space. Vive Pro offers the ideal solution for companies that need a high quality VR solution which can be easily deployed within their business".
Seamless Service and Integration
Enabling small to large companies to leverage the best-in-class VR solution and protect their investment, Vive Enterprise Advantage professional services offers commercial licensing,
dedicated support, and service utilities for Vive Pro. Each program offers purchase protection with tailored hardware warranties, limited down time, dedicated support and advanced device management utilities. Vive Pro's new enterprise management tool gives businesses the flexibility and control to manage Vive deployments and updates easily and securely.
Enterprise Advantage:  €185 (excluding VAT)
Dedicated support including telephone, online chat and email.
Onsite customer pick up and return with expedited device replacement
Two-year commercial warranty covering HMD and qualifying accessories
With NVIDIA, Vive Pro Delivers Enterprise Grade VR for Airbus, Volkswagen and Raymond Corporation
When combined, the HTC Vive Pro and NVIDIA VR Ready Quadro GPUs deliver the performance, stability and reliability necessary for an enterprise-grade experience. NVIDIA VR Ready Quadro graphics provide the capabilities essential for high-fidelity VR experiences across professional applications. The Quadro P5000 offers an excellent entry point for those in need of the highest quality VR experience.
Tracked space at launch will support 6×6 meter area. VIVE Pro is capable of supporting a 10×10 meter area using up to four SteamVR Base Station 2.0 units, along with a software update to be delivered at a later date. Additional Base Stations purchased separately.
"Enterprise VR growth is exploding, thanks to improvements in audio, text and graphics that have made VR far more immersive," said Bob Pette, Vice President, Professional Visualization, NVIDIA.  "From architectural walk-throughs to automotive design, HTC and NVIDIA are redefining what commercial users can do in VR."
As a global leader in the aerospace industry, Airbus is implementing Vive across their organization to streamline operations and facilitate collaboration. To ensure all teams have access to VR, departments at Airbus can order and install VR just like any other IT equipment request.
The Raymond Corporation has deployed Vive across their business space to provide advanced, hands-on forklift instruction that is designed to improve operator skills and build confidence, as well as help retain employees and keep them learning. The first simulator of its kind in the material handling industry, it allows operators to learn on an actual lift truck in a virtual environment helping them become familiar and comfortable with the forklift before reaching the warehouse floor.
"The Raymond Virtual Reality Simulator is responding to new customer challenges in the supply chain and logistics industry with smart, leading-edge technology. By using Vive to allow operators to become familiar and comfortable with the forklift and its controls Raymond is harnessing technology to help overcome the skills gap, as well as draw in new candidates who may have not considered the supply chain for a career track," said Raymond CEO, Michael Field. "Using Vive and VR exemplifies our commitment to keeping customers running better and managing smarter, and planning for future needs while increasing a business's productivity and efficiency."
Volkswagen Group has implemented VR in numerous way, through their Volkswagen Digital Reality Hub Group, with the most recent advancement to train employees in logistics and production using VR.
"At the Volkswagen Group using Vive and Virtual Reality creates an ideal environment for effective and efficient training, in addition to global collaboration," said Dennis Abmeier, Volkswagen Group IT/Digital Realities. "We're excited to embark on our goal of training 10,000 employees in logistics and production this year using VR."
For more on the Vive Pro, please visit: https://enterprise.vive.com/.