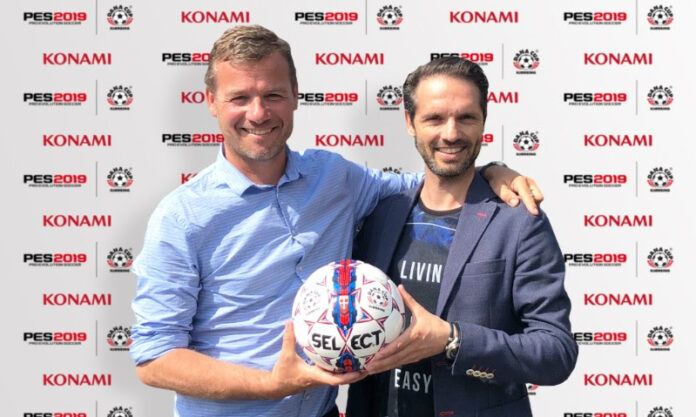 Så har Konami annonceret at de fortsætter med at sponsere Dana Cup. Vi har sakset pressemeddelelsen:
The Dana Cup was established in 1982 and is renowned for being the world's most international youth soccer tournament with 90% of the competing teams coming from outside of Denmark. The 2018 event will see 25,000 young players aged 11-19 congregate in Denmark on July 23rd for a week-long series of hotly-contested tournaments. Over 1,100 teams from 45 different countries around the globe will be taking part. Alongside the Dana Cup competition, KONAMI will have a series of entertainment areas including a space that will play host to an official PES LEAGUE eSports tournament that will feature loads of cool prizes to win, and an area wherein resting players will be welcome to try their hand at the publisher's forthcoming PES 2019 title – one month before its official launch! – and will also get a chance to meet Eldridge O'Neil and Alex Alguacil, two of the world's best PES LEAGUE players as well.
Livestreaming of the events will be happening throughout the competition, details will be announced shortly.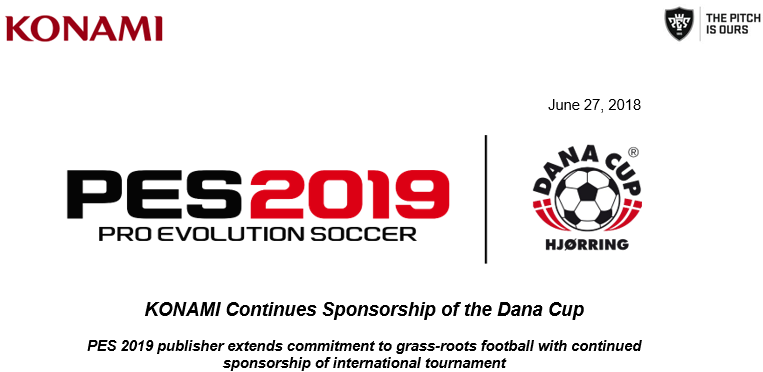 "We loved being part of such a fantastic example of grass-roots football last year, and are very delighted to continue as a key sponsor for what is one of the biggest youth football events in the world," said Jonas Lygaard, Senior Director Brand & Business Development at Konami Digital Entertainment B.V. "KONAMI has a deep-rooted love of football and is keen to champion the next generation of stars. With 25,000 players set to attend, PES 2019 will offer a welcome respite between the hard-fought rounds." 
"KONAMI was an enthusiastic and supportive partner of last year's tournament, so we are extremely pleased that they are onboard for this year's Dana Cup event," said Jette Andersen, Director of the Dana Cup. "We both aim to unite the youth of the world through football, and we know that the players will welcome the chance to go hands-on with PES 2019 ahead of launch." 
PES 2019 will be available on PlayStation®4, Xbox One™, and PC STEAM, on August 30th. PES 2019 will be available in two physical editions, with new global ambassador Phillippe Coutinho on the front cover of the standard edition and David Beckham on a special edition which gives fans the opportunity to unlock myClub bonuses. Also available at launch will be a digital-only Legend edition that will include even more content for myClub.
To pre-order PES 2019, please visit: https://www.konami.com/wepes/2019/