Efter annonceringen af Generation 11 af Intel processorer så skal der selvfølgelig et nyt chipsæt til at drive den ekstra funktionalitet. MSI er nu ude med Z590 bundkort til selvbyggeren der vil være med på det senese teknologi.
As MSI official announcement mentioned, all of MSI 500 series motherboards with 11th Gen Intel Core processors support PCIe 4.0, and all of Z590 Wi-Fi motherboards have at least one 2.5G LAN and the latest Wi-Fi 6E solution which extends to 6GHz spectrum providing remarkble user experience when streaming, gaming and even working from home.
The entire MSI Z590 Series has upgraded VRM power designs. MEG Z590 GODLIKE features direct 20 phases with 90A SPS, while MEG Z590I UNIFY has direct 8 phases with 90A SPS. For other MEG Series motherboards, they will have 16 phases with 90A SPS with Mirrored Power Arrangement.
Also, MSI Z590 motherboards are built with at least 6 layers with 2oz thickened copper. For more reliable circuit transmission, MEG ATX motherboards goes up to 8 layers, and MEG Z590I UNIFY will have 10 layers. To offer better gaming experience, all of MSI Gaming Series are server grade level PCB. As MSI slogan says-"Made for gamers and creators." MSI always walks the talk.
For the connectivity, the entire MSI Z590 motherboards adopts Lightning USB 20G, known as USB 3.2 Gen2x2, capable of providing transfer speeds up to 20Gbps via Type-C port. Onboard Thunderbolt 4 ports that the bandwidth speed is up to true 40Gbps are exclusive to MEG Series, supporting six daisy-chained devices. Maximum 8K display support and USB 4.0 specification are a great benefit to creators.
Additionally, Dragon Center is comprehensively updated to MSI Center, which applies new UI design and advanced functions. In MSI Center, users can find Sound Tune, which turn it on by one click. MEG Z590 GODLIKE and MEG Z590 ACE have Audio Boost 5 HD adopting the new audio processor ALC 4082 and ESS codec. Both hardware and software enhancement, users can enjoy a good clean sound.
As the brand new appearances of MSI motherboards are revealed in public, most want to delve into specifications and performance. MSI 500 Series has been comprehensively upgraded compared to the last generation, and they are worth it. Before we can take a look at the actual motherboards, here are details for everyone who are interested in.
The following show the details of design. In addition to Aluminum Cover, MEG Z590 ACE has VRM heatsink, heat pipe and thermal pad to lower the temperature around CPU, and all of four M.2 slots are covered with M.2 Shield Frozr. On the top of PCB, Dedicated Choke Pad covers MOSFETs as well as chokes. More outstandingly, MSI upgrades Chest Plate of MEG Z490 ACE into Aluminum Backplate. The cover range is enlarged including most parts of back to effectively dissipate the heat. After running internal tests, the temperatures of front and back PCB of MEG Z590 ACE can drop 21% and 15.8% respectively, and MEG Z590 GODLIKE drops 27% on the front and 16% at the back, which proves that MSI heat dissipation solutions work well.*1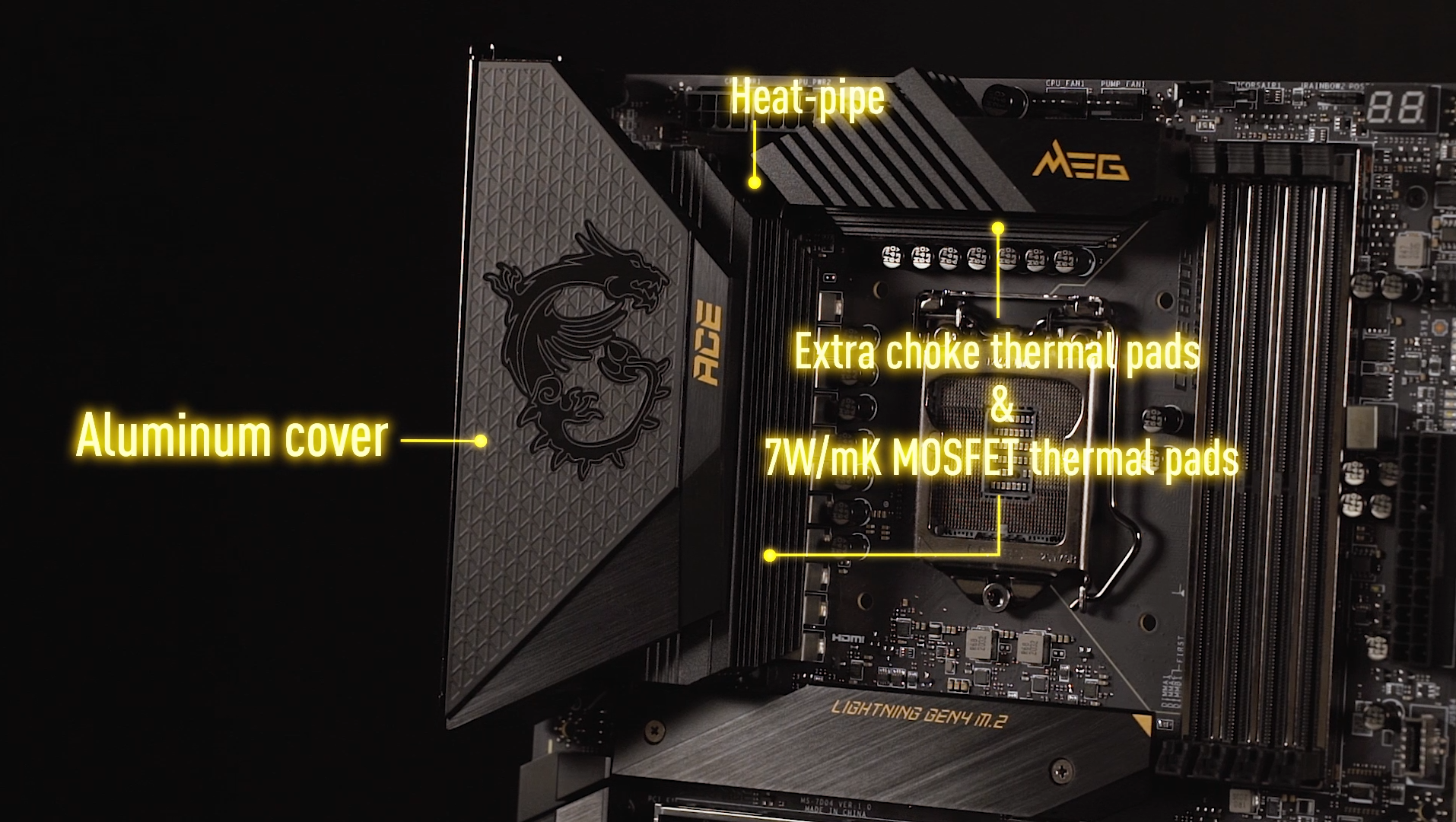 ▲ Heatsink design of MEG Z590 ACE
Refer to specifications, all of MEG series have the latest Wi-Fi 6E, and MEG ATX motherboards have four M.2 slots and dual 8 pins. Also, Thunderbolt 4 and Audio Boost 5 HD are exclusive to MEG Series.

As for MEG Z590 GODLIKE, MEG Z590 UNIFY and MEG Z590I UNIFY, they will be expected to hit the market in the coming days.
The Game Changer in the world – MPG
While MPG Series shows up, the trendy appearances catch gamers' eye. MSI takes a long shot at MPG Series, such as wavelike VRM heatsink design and volume bar M.2 Shield Frozr design, which offer stylish impression. MPG Z590 GAMING FORCE is even the first violet black motherboard in the world. Especially, there are easter eggs hidden in the volume bar design. Can you find them?
MPG Z590 GAMING CARBON WIFI and MPG Z590 GAMING FORCE are the first batch to show up on the market. Both have 16 Duet Rail Power System with 75A SPS that offers incredible gaming experience. Besides, MSI MPG ATX motherboards have three M.2 slots with M.2 Shield Frozr and Lightning USB 20G. Owning MSI MPG Series will definitely make you stand out.
The Sniper in this Fight – MAG
Deriving from military colors, MSI MAG Series has graphite black, pacific blue and midnight green. MAG lovers can choose colors based on their preferences. Besides appearance variety, MSI MAG Z590 motherboards have 14 Duet Rail Power System with DrMOS and Extended Heatsink Design, which can maintain high performance. Furthermore, MAG Z590 TOMAHAWK WIFI has incredible network solutions both Wi-Fi 6E and Intel 2.5G LAN.