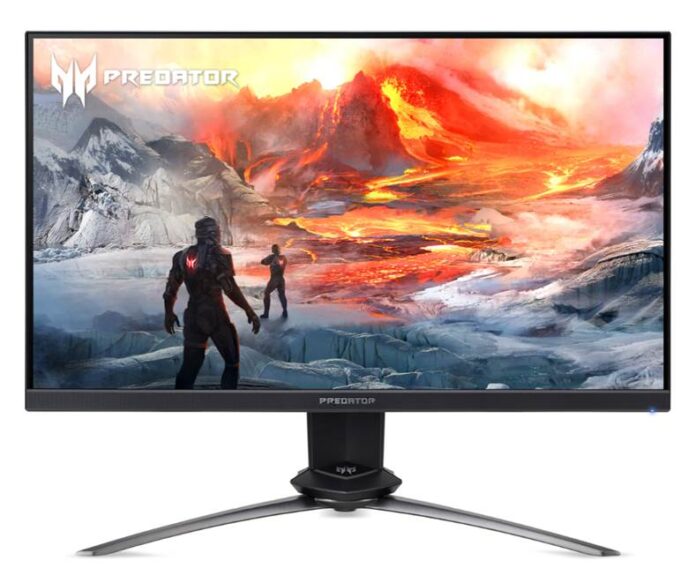 Acer har annonceret en ny Predator skærm som har full HD (1920×1080) med NVIDIA G-SYNC og lynhurtig krystal teknik som giver en 240hz opdateringsfrekvens og 0,4 ms i grå til grå (G2G). Den står en vejledende udsalgspris på 4.500 kr. og er 24,5″.
For pro-gamers looking for the ultimate smooth gaming experience, Acer today unveiled the Predator XN253QX FHD (1920×1080) 240Hz G-Sync monitor with native 3 ms and up to 0.4 ms G2G response time. Designed with NVIDIA G-Sync and Fast Liquid Crystal technology, the Predator XN253QX improves the native response time from 5ms to 3ms. No matter how fast-moving the gaming action, the supercharged 240Hz refresh rate and up to 0.4ms response time ensures dramatic transitions are rendered smoothly, delivering clear, blur-free images.
The new Predator XN253QX gaming monitor is designed for gamers looking for an incredible gaming experience. It brings games to life in Full HD (1920×1080) immersion and features a rapid 240Hz refresh rate that provides wonderfully smooth images and tear-free gameplay when fast-moving objects buzz across the screen. NVIDIA® G-SYNC™ eliminates screen tearing by adapting to the framerate of the outputting device, resulting in buttery smooth gameplay.
The Predator XN253QX is ideal for gamers who want to be engrossed in gaming worlds. Boasting NVIDIA G-SYNC, the new monitor's frames sync with the PC's graphics cards to support dynamic refresh rates, eliminating screen tearing and minimizing lag. The GameView OSD setting offers ambient lighting set-up, aim-point assistance and black level adjustment to win gamers a competitive advantage, allowing them to clearly spot enemies, duck for cover, or navigate curves on a race track. Detailed color settings, including dark boost, make sure gamers see every threat. Special gaming features like aim-point helps gamers get the jump on opponents and perfect their shot. 

Acer's ZeroFrame design provides the maximum viewing experience and supports multi-monitor setups perfectly whilst the Acer ErgoStand design gives gamers the freedom to swivel, pivot and adjust height for maximum adaptability and viewing comfort. The quick-release design means the monitor can be easily separated from its stand so it can be VESA wall-mounted.
The Predator XN253QX is also designed to be easy on the eyes, featuring Acer VisionCare™ — a suite of technologies including Flickerless, BlueLightShield, ComfyView and low-dimming technologies, to help protect eyes during longer gaming sessions.
Pricing and Availability
The Predator XN253QX gaming monitor is already available in the Nordic region, starting at DKK 4,495 / NOK 5,995 /SEK 6,990.
Exact specifications, prices, and availability will vary by region. To find out about availability, product specifications and prices in specific markets, please contact your nearest Acer office or retailer via www.acer.com.