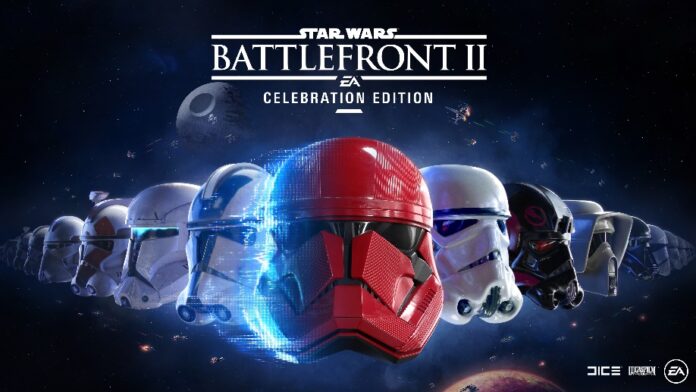 Det nye Star Wars Battlefront 2 Celebration Edition inkluderer basisspillet, alle nuværende opdateringer og de næste 2 års fremtidige opdateringer. Dertil et stort antal kosmetiske opgraderinger til forskellige dele af spillet med bl.a. en masse nye skins. I kølvandet på den næste film i sagaen, The Rise of Skywalker, som kommer i biograferne herhjemme d. 18. december, bliver det med udvidelsespakken muligt i spillet at trække i rollen som heltene Rey og Finn fra filmen og skurken Kylo Ren.
Today, DICE and Lucasfilm announced the Star Wars™ Battlefront™ II: Celebration Edition, available tomorrow, December 5.This new edition allows fans to enjoy the most complete version of the game yet, including all previously released and future content updates, with every era of the Star Wars galaxy represented. Later this month, Star WarsBattlefront II will celebrate the release of Star Wars: The Rise of Skywalker with a movie-themed content update starting December 17th*.
Star Wars Battlefront II: Celebration Editionincludes the base game, featuring an immersive single player story and epic multiplayer battles across all three eras of the Skywalker saga. With two years' worth of free game updates also included, players will have instant access to added new modes like online Co-Op, massive offline battles against AI foes in Instant Action, and a non-linear, multiplayer tug-of-war between planetary surfaces and capital ships in Capital Supremacy. Additionally, this edition includes 150+ Appearances including six Legendary Hero Appearances, which are different customization skins based on the movies, more than 100 Hero Trooper Emotes and Voice Lines and more than 70 Hero and Trooper Victory Poses from the very start of the game. Also included is instant access to every Hero Appearance, Trooper Appearance, Emote, Voice Line and Victory Pose that can be unlocked with in-game currency*.
With The Rise of Skywalker content update, players will be able to immerse themselves in settings inspired by the thrilling final installment of the Star Wars sequel trilogy such as a brand new, jungle-like planet inspired by the upcoming film. Four new reinforcements will also be available with the Sith Trooper and Jet Trooper from the First Order, plus a Gunner and Spy from the Resistance. Additionally, this update will include new film-spired Appearances for Rey, Finn and Kylo Ren. The new Appearances, Reinforcements, and select Co-Op experiences will arrive on December 17. Players will have to wait a little longer to set foot on the new planet as it is opening for all players on December 20.
In January, DICE is bringing Capital Supremacy to the sequel trilogy era with two new capital ships to defend or bring down – the MC85 of the Resistance and the Resurgent-class Star Destroyer. The massive vessels will station themselves above the high-agency ground battles taking place on the new jungle-like planet and Jakku. The same two locations will be brought to offline Instant Action as well. Also, BB-8 will join the game as a new hero character, bringing a fast-paced playstyle to the roster and BB-9E will be playable in a support role for the First Order.
For the full details on what's included in the Celebration Edition and Star Wars: The Rise of Skywalker update, head to the official blog post here.