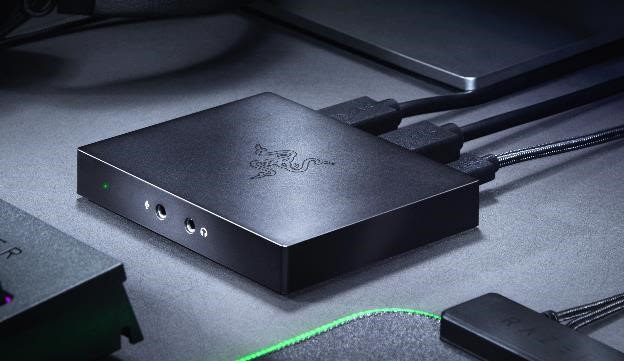 Razer træder nu også ind i markedet for at streame med deres annoncering af
Razer Ripsaw HD. Det er en ekstern video capture enhed som kan optage i 1080p med 60 fps samtidig med at den har 4K passthough. Dermed har du den gode kvalitet på skærmen samtidig med at du giver dine følgere den bedst mulige kvalitet. Prisen bliver omkring 1.300 kr. og kommer i dette kvartal..
High-quality recording and broadcasting with the Razer Ripsaw HD
The Razer Ripsaw HD is a compact external capture card with pro-grade features to meet the demands of broadcasters requiring high frame rate, detailed footage and crisp audio. Capturing video in Full 1080p HD at 60 frames per second, the Ripsaw HD is designed for super smooth gameplay recording and live streaming.
The Ripsaw HD features a 4K 60 FPS passthrough, allowing broadcasters to enjoy the latest ultra-high-resolution games as the developers intended, whilst sharing the gameplay with their audience with crisp 1080p Full HD resolution at super-smooth 60 frames per second.
The Ripsaw HD is compatible with PC and console, featuring a simple HDMI input and output for video capture with a single USB 3.0 connection. With built-in audio mixing, streamers can broadcast both their game and microphone audio through the Ripsaw HD with zero latency and no synching delays. The microphone input allows streamers to use one microphone across two PCs, removing the need for complicated audio mixer or software set-ups and allowing streamers to use in-game comms whilst still broadcasting their voice audio to their stream.
With the addition of the Ripsaw HD to Razer's range of innovative broadcasting products, which includes the Razer Kiyo, the first streamer-focused camera with built-in ring light, and the Seirẽn Elite, a broadcaster microphone with built-in noise limiter, Razer now offers a high-quality audio and video solution to suit every streamer and broadcaster, across multiple platforms.
ABOUT THE RAZER RIPSAW HD
Technical Specifications
Max capture resolution: Uncompressed 1080p 60 FPS
Interface: USB 3.0 only
Video Input: Digital – HDMI 2.0
Audio Input: Digital – HDMI
Audio Mix-in Input: 3.5 mm Mic-in / 3.5 mm Aux-in
Video Output: HDMI 2.0
Maximum Supported Pass-Through Resolutions: 2160p60
Other Supported Resolutions: 2160p, 1080p, 1440p, 720p, 480p
Includes: USB3.0 Type C to Type A cable, HDMI 2.0 Cable, 3.5 mm Audio Cable
COMPATIBILITY
Compatible with Open Broadcaster Software, Mixer, Streamlabs, XSplit, Twitch & YouTube