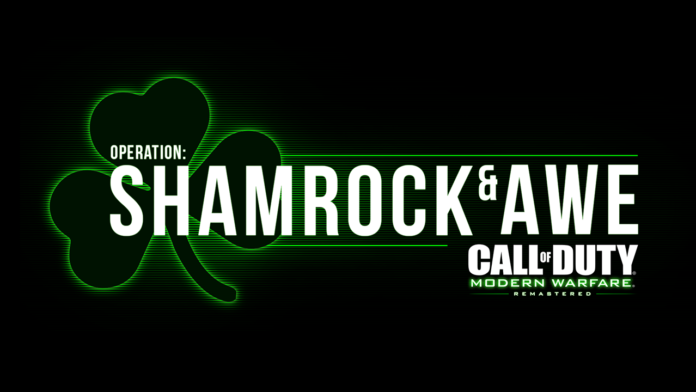 Frem til 3. april fejrer Call of Duty: Modern Warfare Remastered, St. Patriks Day med masser af tema ting under navnet Operation: Shamrock & Awe. Der er samtidig et gratis Supply Drop. Bemærk at de ikke stacker så husk at hente din hver uge, senest hver mandag kl. 7.59. Der er nye camo'er til dig og dine våben.
DOWNPOUR TURNS INTO DAYBREAK
Besides being known for its long sightlines, mounted machine guns, and sneaky peripheral routes, Downpour is a map also known for its fierce weather. But a bit of luck has landed on your side as the clouds have parted and shed sunlight on this map. Daybreak is a free map, available only during Operation: Shamrock & Awe, that turns Downpour upside down and replaces it with a lush, green countryside filled with St. Paddy's décor and a rainbow, naturally.
Daybreak also comes with nice bonus that you won't have to catch a leprechaun to unlock. Complete the in-game challenges on the map and you can earn two exclusive St. Paddy's-themed camos for your weapons: the Shamrockin' "Folium" and the rainbowtized "Prism." There are different challenges to unlock the camos for each of the weapon classes, but those challenges disappear when Operation: Shamrock & Awe is over.
As part of Operation: Shamrock & Awe, three new themed collections will provide you with St. Patrick's Day theme reticles, camos, calling cards, and emblems. Each set will also include a bounty for completing the set: assemble the "Luck" collection to earn a new character, "Leprechaun" rewards you with a Shillelagh melee weapon, and "Pot o' Gold" gives you a unique calling card worth fightin' for.

But that's not all. If you craft or unlock all three themed collections, you'll also unlock Darren "Graves" Cosgrave as a playable character for the first time ever! That's right, you can put the master of the Depot right into your loadout. However, he's available for a limited time as part of Operation: Shamrock & Awe which expires after April 2, so get busy!

So jump into Modern Warfare Remastered and test your luck! Operation: Shamrock & Awe runs now through 08:01am CET on April 3. Sláinte!