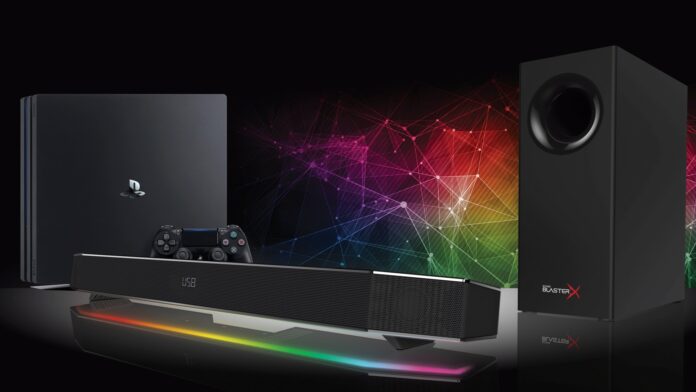 Sound BlasterX Katana er også et rigtigt godt produkt for dig der gerne vil have en lækker lyd uden at skulle ud i at ommøblerer hele stuen.
Sound BlasterX Katana Wins Prestigious European Hardware Association Award A Second Year Running

The Critically-Acclaimed Audio System Continues an Unbeaten Run with Its Phenomenal Performance and Engineering Delivered by a Tri-Amplified 5-Driver Design, Powerful Subwoofer, Advanced Sound Blaster® Processor, 24-bit DAC, Dolby® 5.1 Decoding, and 16.8 Million Colour Aurora Reactive Lighting System
Creative Technology Ltd today announced that it had picked up the prestigious European Hardware Award once again in the Best Speakers category for its Sound BlasterX Katana at Computex Taipei 2018. The Sound BlasterX Katana was also awarded Best Speaker at the European Hardware Awards in 2017.

The European Hardware Association runs the European Hardware Awards and comprises nine of the largest independent technology news and reviews sites from across the continent – with a combined audience of more than 22 million technology enthusiasts.
| | | |
| --- | --- | --- |
| | The EHA conducts large scale, detailed research, which is presented at events like Computex and DISTREE. The European Hardware Award is an annual selection of the very best hardware products available in the European market – as chosen by its expert panel – as well as the European Hardware Community awards. | |
About Sound BlasterX Katana
The Sound BlasterX Katana is the world's first Under-Monitor Audio System that comes with Creative's most powerful multi-core audio DSP, doubling as a high-end Sound Blaster sound card/DAC that projects 24-bit high-resolution audio for lossless, crystal-clear and impressive room-filling sound. Its sophisticated tri-amplified design that powers 5-drivers comprises of 2 up-firing midbass drivers, 2 high-excursion tweeters, and a long-throw subwoofer, each individually powered by a DSP-controlled amplifier for precise audio reproduction at each part of the audio spectrum. Incorporating BlasterX Acoustic Engine and a Dolby Digital 5.1 decoder, the Sound BlasterX Katana gives users immersive audio for games and movies. The sleek audio system, crafted with brushed aluminium, also features a programmable Aurora Reactive lighting system with 16.8 million colours.