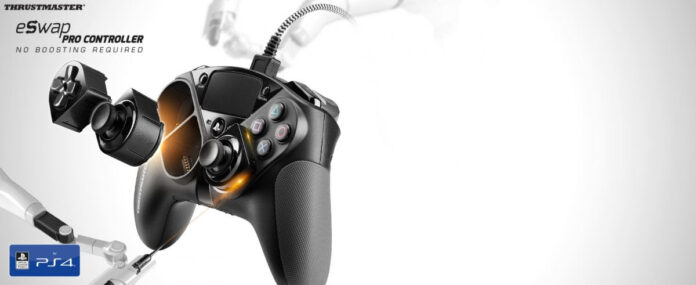 Så er der ny modul opbygget kontroller fra Thrustmaster. Ud over at du kan vælge funktion af de enkelte knapper så har du også mulighed for at skifte rundt på analoge pinde og trykknapperne. Den kan anvendes på PlayStation 4 og PC.
Thrustmaster is thrilled to offer a brand-new piece of gaming gear for PS4 and PC: its first professional controller, designed for gamers looking to take their gaming to the next level, reach new heights of performance and achieve the best possible rankings.
Featuring exclusive T-MOD technology, the eSwap Pro Controller has been developed to adapt to all gaming styles thanks to its completely modular ergonomics, industrial-grade components, dedicated configuration software for the controller, and an ecosystem of additional modules allowing for unlimited upgrading possibilities (sold separately).
This product is an officially-licensed PlayStation 4 device, and is also compatible with PCs running Windows 10 (PC compatibility not tested or approved by Sony Interactive Entertainment).
The eSwap Pro Controller is the ultimate gamers weapon in search of an optimized experience for each type of game.
The adjustable positioning of the modules on the controller — either right in the middle of a game, or when you're not playing — lets adapt the right configuration for the best possible fit with players needs, or those of the team.
The controller's shape and ergonomics have been designed for a perfect fit with all gaming styles: combat, sports, FPS/TPS, battle royale and even RPG.
Flawless responsiveness — thanks to the tact switches incorporated into each module and button — is a must when it comes to boosting your chances of victory.
Responsive clear clicks feeling mechanically increase the sensation of control, so gamers will never have to worry about response times while playing.
Enjoy more than 5,000,000 activations on all buttons and more than 2,000,000 activations for the pre-calibrated ministicks.
The eSwap Pro Controller features an unlimited modular ecosystem, at the crossroads of design and performance.
A variety of packs incorporating new features — along with different color customization packs — are available, ensuring optimal comfort and eye-catching looks that fit in with every players' favorite games.
Try out new module textures, shapes and heights: you'll love the different and complementary options available.
The dedicated software lets you master and adjust all essential settings: save 2 different presets for enhanced gaming ergonomics and optimized comfort, to meet your specific needs.
Adjust the sensitivity, dead zones and vibration levels according to your preferences: give yourself a huge boost in your quest for gaming greatness.