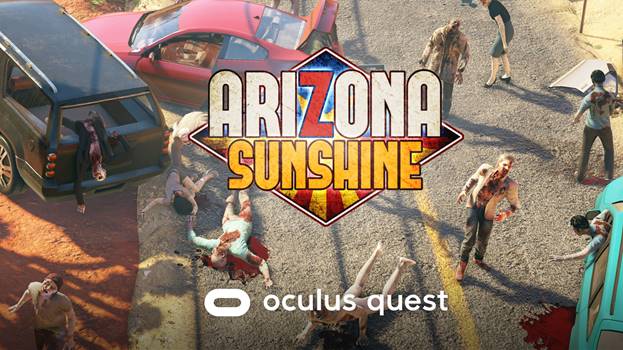 Vertigo Games og Jaywalkers Interactive har annonceret at deres VR shooter  Arizona Sunshine, kommer til Oculus Quest i 2019. Samtidig er har gameplay fra DLC pakken Arizona Sunshine – The Damned også fået debut med traileren nedenfor. Det bliver den største Arizona Sunshine mission til dato. Det udkommer til PC VR og PlayStation VR 27. august
Already available for leading VR platforms, Arizona Sunshine is a market leading VR game in both consumer sales and critical opinion, with fans around the globe counting Arizona Sunshine as the ultimate zombie VR title. Released to critical and fan acclaim on each format to-date, Arizona Sunshine offers intuitive and immersive controls, set against compelling gameplay and narrative that keeps players coming back for more.
"We're excited to be bringing Arizona Sunshine to the headset of freedom and possibilities later this year," said Arjen van Heck, Programmer at Vertigo Games. "It will be the VR zombie shooting experience players have come to love, rebuilt entirely for Oculus Quest."
Arizona Sunshine is a full-feature game that puts you in the middle of a zombie apocalypse, embarking on a journey in search of human contact across post-apocalyptic southwestern America. Join forces with a friend in co-op multiplayer or jump into the endless multiplayer Horde mode for up to 4 players.
Arizona Sunshine was released on PC on December 6, 2016 and went on to earn sales of more than $1.4m in its first month of release. It was awarded UploadVR's VR Game of the Year 2016 and later went on to release for PlayStation VR, consistently claiming a place among the top titles available for the platform since launch in 2017.