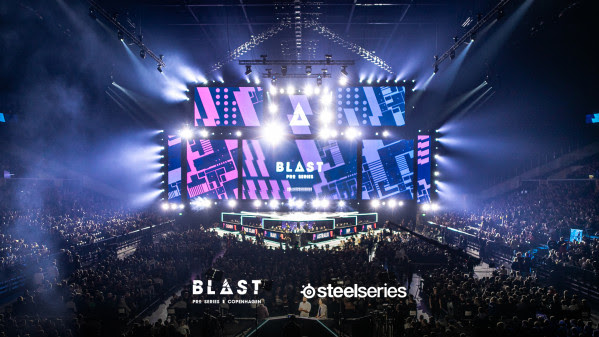 Det totalt udsolgte Royal Arena danner rammen om BLAST Pro Series Copenhagen her i weekenden. Det sker i samarbejde med danske Steelseries. I køl vandet på Blizzard kan denne danske turnering også trække overskrifter, da finalen afholdes under diktaturets beskyttende vinger i Bahrain.
"Bahrain is the perfect place to hold the 2019 Global Final," said Robbie Douek, CEO of BLAST Pro Series. "There is already a strong and engaged base of fans, an emerging scene of talented young players, and a country famed for its welcoming hospitality."
Human Right Watch har svært ved at genkende at det gæstfri og åbne Bahrain. Her på redaktionen gætter vi på at det har noget med penge at gøre. Det er blevet populært at lægge store sportarrangementer i rige diktaturer for at hjælpe dem med at få et bedre image. Jeg vil fraråde at du tager et regnbue flag med. Heldigvis så rumler de hule ord om Corporate Social Responsibiliy højt og larmende.
Legendary esports brand SteelSeries will partner with BLAST Pro Series Copenhagen for the sold out tournament in the Royal Arena on November 2.
For the third year in a row, BLAST Pro Series Copenhagen will be held in a fully packed Royal Arena with over 12,000 spectators. Home soil favourites Astralis will take on the American superstars Team Liquid and warriors from FaZe Clan. Last years BLAST Copenhagen Champions NaVi, and Counter Strike veterans NiP, Cloud9 and their new lineup will be fighting it out too.
SteelSeries has been at the forefront of the esports industry since 2001. SteelSeries' dedication to the professional esports has led to many industry-leading firsts including the first mousepad for esports, first dedicated gaming headset, first mouse with onboard profiles and the first mechanical gaming keyboard. These innovations along with community, team and industry partnerships have helped pave the way to a positive and successful scene.
Tony Trubridge, Director of Esports, SteelSeries says:
– SteelSeries has been a proud and invested member of the community since our humble beginnings. From being the sole sponsor of the world's first CS:GO Major to our latest partnership with the BLAST Pro Series in Copenhagen. I'm looking forward to seeing some amazing matches played out in front of the crowd where our journey began.
Leo Matlock, Commercial Director, BLAST Pro Series says:
– We are delighted to partner with Steelseries for our sold-out Copenhagen tournament. Steelseries has been an ever-present in the esports community since they were founded in Denmark – there is a natural synergy here with BLAST's ambitions and we are excited to be doing so many great activations with them as we return home to Copenhagen.
SteelSeries will have a booth in the arena where fans will be able to flick shots and win prizes.
BLAST Pro Series Copenhagen is the 10th event since BLAST's beginning in 2017. The BLAST Pro Series season ends in December, when the Kingdom of Bahrain hosts the Global Final.