Ikke nok med at alt Cayde's gear forsvinder når vi rammer Destimy 2, alle andres gear forsvinder også. Du har endnu tid til at sikre dig de forskellige emblemer  i Destiny 2 som viser hvad du har opnået i Destiny 1. Nedenfor finder du den samlende oversigt over emblemer, hvornår de forskellige raids kører og hvornår det er sidste gang de forskellige aktiviteter kører.
Even before our old friend Cayde revealed that your stuff (but, more importantly, his stuff see above!) would soon fall prey to the Red Legion, we let you know that we were going to honor our veteran players who join us again in Destiny 2. Today, we're going to shine a little light on what you can expect if you count yourself among those ranks.

We say a little light, because we have competing goals to contend with on this subject. Some of the ways in which we'll tip our hat to your legacy in Destiny 2, and some of the ways you'll be able to show all the young pups that you'd become legend long before they were ever reborn in the Cosmodrome, are best left for you to experience for yourself. Others are little touches that will fall snuggly into the realm of "you just had to be there." We're not going to spoil them for you right here and right now.
On the other hand, we do have a handful of emblematic accomplishments that could compel you to tie up some loose ends this summer. We'd hate to have you look back on this time once Destiny 2 launches and wonder why we just didn't let you know that if you'd just done that one last thing prior to

August 1st, 2017

, you'd have one more memento to add to your visible Destiny 1-era accomplishments in Destiny 2.

In the spirit of saving some small, but hopefully emotionally impactful surprises for you to experience first-hand in Destiny 2, and in the interest of arming you with the information you need to form your plan of attack over the next few months, here are seven Destiny 1 gameplay accomplishments that we'll be carrying over into Destiny 2.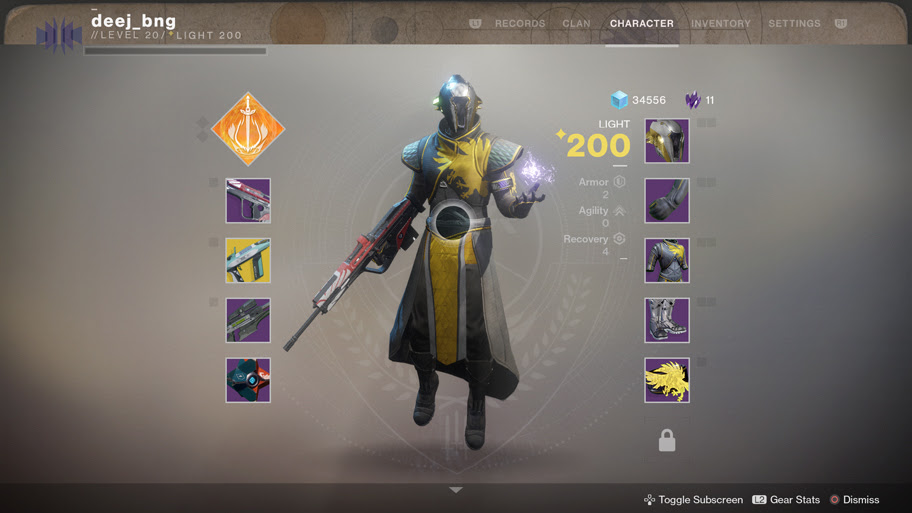 In Destiny 2, the real estate just above your Guardian in the character screen is being commandeered to reflect the design of your currently equipped emblem. Emblems will still be visible in orbit while you're forming your Fireteam, as you would expect, as well. If this sort of personal touch is the type of thing that floats your boat, then you'll want to pay close attention to the selection of emblems below, and the things you'll need to accomplish in order to add them to your new collection.

Fair warning for those of you who joined us in progress: Some of these emblems have been reserved for Guardians who stood together during specific, triumphant moments in time. In the literal sense of the word, the four emblems that fall into that category are strictly about commemorating and respecting the deeds of those who were there with us at the beginning of our first and second year of adventures. Two, however, are still actively achievable as part of the Age of Triumph record book, and one is tied directly to your still malleable Grimoire score.

We'll be tracking the deeds associated with these rewards until August 1, 2017. After that, the data will be frozen in time so we can begin the migration process for the launch of Destiny 2.
Destiny 2 Memorialization Emblems
Laurel Triumphant
You completed a Moment of Triumph during Destiny's first year.
Laurea Prima II
You completed all 10 Moments of Triumph during Destiny's first year.
Slayer of Oryx
You owned The Taken King and completed a Moment of Triumph during Destiny's second year.
Heard the Call
You owned The Taken King and completed all 8 Moments of Triumph during Destiny's second year.
Young Wolf
You owned Rise of Iron and reached Rank 2 in the Age of Triumph record book.
Saladin's Pride
You owned Rise of Iron and reached Rank 7 in the Age of Triumph record book.
Lore Scholar
Your achieved a Grimoire score of over 5,000 in Destiny 1.
Whether you've been with us from the very beginning and failed to spend your Strange Coins on Gjallarhorn in week 2, rose up for the first time to throw shade at Oryx deep within his creepy loot-filled fortress, or took your first steps in the snow of Old Russia after hearing the howls of Lord Saladin's wolfpack, it has been our honor to host you in our world. We're looking forward to our next big adventure together this September, but before we get there, we have some moments to forecast before the sequel drops.

Track these dates below. They may impact the way you remember the past, spend time in the present, or decorate yourself in the future.
Securing Your Age of Triumph Shirt
You have until

August 1, 2017

to reach Rank 7 and unlock the discounted offer to claim your Age of Triumph Shirt. While they will not be their last occurrences, you might need to complete some of these activities to be counted in your Age of Triumph Record Book.

Every Weekend: Trials of Osiris
July 4, 2017: Iron Banner
July 4, 2017: King's Fall Weekly Featured Raid
July 11, 2017: Wrath of the Machine Weekly Featured Raid
July 18, 2017: Crota's End Weekly Featured Raid
July 18, 2017: Daybreak Month Begins
July 25, 2017: Vault of Glass Weekly Featured Raid
August 1, 2017: Age of Triumph Shirt Offer Expires!
Destiny 2 is rapidly approaching, like a sneak attack that's just about to crest the horizon. This means that our two competitive end game experiences will be going into hibernation before reemerging to spread their beautiful wings in unexpected ways in Destiny 2.

If you fancy yourself forged in the fires of the Crucible, you'll want to mark these dates:
August 1, 2017: Final Destiny 1-era Iron Banner
August 11, 2017: Final Destiny 1-era Trials of Osiris
Weekly Featured Activities
Yup! That snake-faced bastard will still make his weekend appearances in a location chosen for him. His will, after all, is not his own.
The weapons, armor, and playable activities that have been available only on PlayStation will transfer to the Xbox in October, 2017. Exclusive content from The Taken King will migrate to all four launch platforms, including legacy consoles – including PlayStation 4, PlayStation 3, Xbox One, and Xbox 360. Exclusive content from Rise of Iron will only migrate to PlayStation 4 and Xbox One. We'll follow up with a more exact date before it arrives.