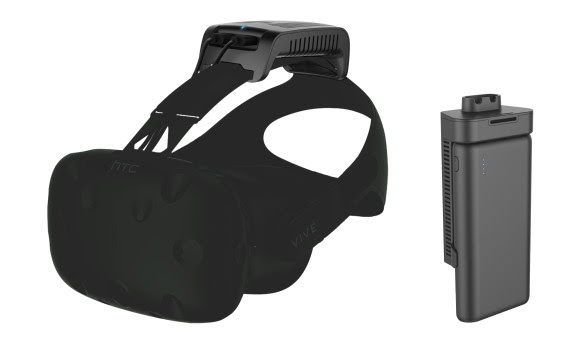 Så er der annonceret den første trådløse VR løsning. Det er TPCast der anvendes sammen med et HTC Vive sæt. Der er både batteripakke og alt hvad du ellers behøver for at gå wireless VR.
TPCAST, creator of the first wireless virtual reality solution, today announced the highly anticipated European launch of its Consumer Edition of the Wireless VR Adapter for the HTC VIVE.
With the TPCAST wireless adapter European consumers can experience wireless VR simply by pre-ordering online with TPCast partners across Europe.
The TPCast wireless adapter is a breakthrough in the field of VR, solving one of the biggest physical obstacles – the cumbersome wiring between the PC and the headset.
TPCast is a small device that attaches to the top of the Vive headset and completely replaces the need for any cables.
With the adapter, users can experience VR much easier and more effortlessly. The adapter works perfectly even if you move your head around a lot, without any delay or synchronization issues with the headset.
" We've had a lot of pent-up demand in the European market, so we're excited to bring our revolutionary wireless technology to European users," said Michael Liu, founder and CEO of TPCast. "For too long, VR users have had to contend with the tethered experience. But not anymore. European users can now truly experience freedom – the freedom to walk and meander about a beautiful scene, the freedom to keep spinning, twisting, and even flipping without worrying about a cable holding you back. We believe this industry milestone will really change the game completely for VR and ultimately unleash the wireless VR world."
"One of our goals at Vive X is to strengthen and enrich the Vive Ecosystem, and that is precisely what we're doing," said Marc Metis, Global Head of Vive X. "Our investment in TPCast was to help expedite bringing a wireless VR solution to market and we're very excited that wireless VR solutions are now available in multiple markets."
TPCast wireless adaptor is a special accessory designed for HTC VIVE
The consumer edition of TPCast wireless adapter is a special accessory designed for HTC VIVE. The kit consists of five parts: PC TX Module (TX), RX Module (RX), a router and the battery with a charger.
Installation is quick and easy. The kit establishes a wireless connection between the headset and the PC without changing the original HTC VIVE product. It offers a 2K resolution with a transmission delay of less than 2ms. By going wireless, consumers can now enjoy the VR experience tangle free on VIVE at home, work, or at any other locations.
Launching in Europe
"The European market is one of the most interesting markets for VR headsets in the world", said Tony Ho, Executive Vice President of Worldwide Sales of TPCast. "Having a footprint in the Europe is therefore important for TPCast, and we look forward to introducing our range of TPCast wireless products to consumers here as well as expanding our partnerships."
Price & Availability
The TPCast wireless adapter for HTC VIVE will be available to European consumers at a recommended retail price of €349 / £319.
Pre-order will start from September 1st. 2017 with the following selected partners across Europe:
Alternate
Alza
Amazon (Germany)
Caseking
Digitec
Inet
OverClockers
Scan
Schenker Technologies
Webhallen

The wireless adapter is expected to reach the first consumers from around October 20th this year.

For more information about availability per country, please check our website: https://www.tpcastvr.com/