Activision har annonceret Guitar Hero Live sammen med videoklippet ovenfor. Det bliver udgivet både til konsoller, til mobiler og tablets. Det bliver et helt nyt spil der bl.a. introducerer Guitar Hero TV (GHTV) der bliver verdens første musik video kanal hvor du kan spille de seneste numre. Det bliver også første person og udgivelsen er sat til efteråret. Der kommer også helt ny guitar som vist nedenfor.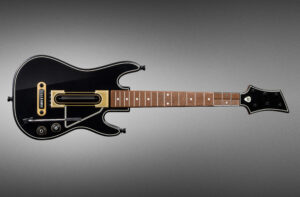 Vi har også saksets pressemeddelelsen:
Live Action, First Person Rock Star Realism – GH Live introduces a whole new level of immersion, empowering players to unleash their inner rock stars like never before. It's a first-person, live-action gaming experience where the player is the star of the show. Players will feel the stage fright and exhilaration of being on stage in a variety of venues, from the smallest club stage in front a hundred people, to the massive main stage of an outdoor festival in front of a hundred thousand people.
The World's First Playable Music Video Network –Guitar Hero Live also introduces GHTV, a 24-hour music video network that lets players jump right into various genres of music and play along to official music videos. The game mode adds an entirely new dimension to Guitar Hero, giving players the chance to compete with their friends in the same room as well as fans around the world to see who can achieve the highest score. GHTV is a living, breathing platform that will be continually updated, serving as an ever-growing source for new music discovery, while further bringing the party atmosphere back to the living room.
Authentic, Re-designed Guitar Controller – The signature Guitar Hero controller has been redesigned to enhance the gameplay experience. The modern, redesigned guitar controller features two rows of three buttons that better reflects the way people naturally play. The new format ensures fun for players of all abilities. For beginners, you can feel like a rock star by mastering play with the bottom three buttons. Medium-level players don't have to stretch their fingers down the guitar controller neck anymore and can instead skillfully play two-row combinations that mimic real chords. Experienced players have a new challenge in creating complex chord shapes and finger combinations that will bring new thrills to veterans.
Festival-Worthy Lineup and a Variety of Venues – Music variety is at the heart of Guitar Hero Live. The game takes the approach of the modern music festival, with rock, folk, EDM, hip-hop, country and pop acts sharing the same stage. The game will feature hundreds of playable songs from a diverse array of artists, including The Black Keys, Fall Out Boy, My Chemical Romance, Gary Clark, Jr., Green Day, Ed Sheeran, The War on Drugs, The Killers, Skrillex, The Rolling Stones, The Lumineers, Pierce the Veil and Blitz Kids, with many more bands to be announced in the coming months.
No Console? No Problem – For the first time ever, Activision is bringing the complete Guitar Hero Live experience to mobile devices, providing players with the same console experience anytime, anywhere. Guitar Hero Live on mobile represents a massive technological leap for the franchise, giving fans the opportunity to play wherever, whenever they want.