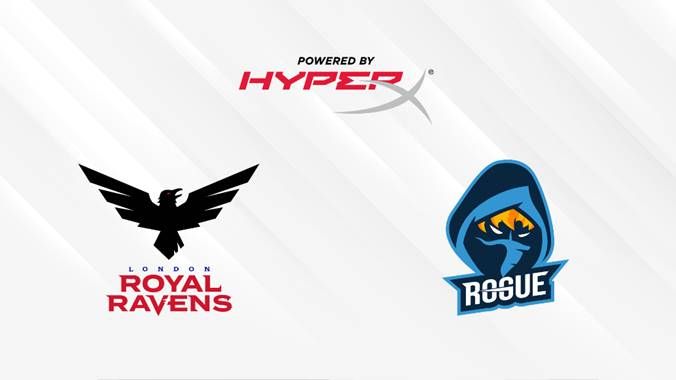 Så har HyperX lukket sponsoraftale med London Royal Ravens som deltager i Call of Duty League og to Rogue hold som henholdsvis delaterg i Rainbow Six Pro League og Rocket League.
HyperX, a leading gaming peripheral maker, signed a sponsorship program with Rogue's London Royal Ravens this week. As the Ravens continue an aggressive and dominant presence in the Call of Duty League, the team now has the support of HyperX. Sporting new jerseys, the Ravens will soon be showing off a decked-out training facility equipped with HyperX gear. The London Royal Ravens are officially "Powered by HyperX" as the team battles for dominance in Call of Duty.
"HyperX is excited to extend our partnership with ReKTGlobal and to sponsor their exciting leagues and teams," said Vincent Lutz, Influencer & Content Marketing Manager HyperX EMEA. "In this unique time when online gaming is becoming even more of an opportunity for people to virtually get together with friends and enjoy some entertainment and friendly competition at home, HyperX looks forward to being part of this experience."
HyperX will also sponsor two Rogue teams that are at the top of their game. The first is Rogue's Rainbow Six Pro Team which tops the leader board in the Rainbow Six Pro League. A range of players including AceeZ, Hicks, Koery, Resize, and Ripz will now sport HyperX gear. Rogue remains the number one team in the league right now hoping to continue their winning streak throughout 2020. Rogue's Rocket League teamhas also signed a sponsorship with HyperX. Team Rogue will now be scoring goals in new HyperX gear with Kronovi, Wonder, Firstkiller, and Garenn hosting weekly recaps and events for fans.
"HyperX has been a mainstay in competitive PC gaming for as long as I can remember," said Amish Shah, Founder of ReKTGlobal. "It's an honour to have their logo on our jerseys, and their gear powering our champions' play."
To learn more about HyperX products, visit the official site.
All three teams plan weekly updates and videos to keep fans going as esports leagues ramp up to a busy 2020. You can find the links for all three teams here:
About HyperX
HyperX is the gaming division of Kingston Technology Company, Inc., the world's largest independent memory manufacturer, with the goal of providing gamers, PC builders, PC, console and mobile power users with high-performance components. For 17 years, the HyperX mission has been to develop gaming products for all types of gamers – high-speed memory, solid state drives, headsets, keyboards, mice, charging accessories for console players, USB flash drives, and mouse pads – to the gaming community and beyond. The award-winning HyperX brand in known for consistently delivering products that deliver superior comfort, aesthetics, performance, and reliability. HyperX gear is the choice of celebrity ambassadors, pro gamers, tech enthusiasts, and overclockers worldwide because it meets the most stringent product specifications and is built with best-in-class components. HyperX has shipped over 65 million memory modules, 10 million gaming headsets and 1 million gaming keyboards worldwide.
Join the global #HyperXFamily at facebook.com/hyperxcommunity, learn how HyperX products can enhance your console experience and boost performance for both you and your PC, console or mobile device at hyperxgaming.com. Whatever your skill level, whatever genres you play, we embrace all gaming enthusiasts everywhere with our core belief — We're All Gamers.
HyperX can be found on:
YouTube: http://www.youtube.com/kingstonhyperx
Facebook: http://www.facebook.com/hyperxcommunity
Twitter: http://twitter.com/hyperx
Instagram: https://www.instagram.com/hyperx
LinkedIn: https://www.linkedin.com/company/hyperx