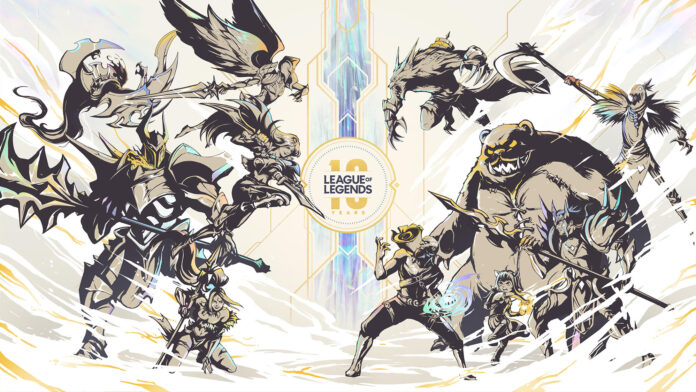 Det er utroligt som tiden går. Nu fylder Riot Games's populære League of Legends 10 år. Det fejres med alle mulige aktiviteter som du kan læse mere om herunder:
Riot Games today kicked off the League of Legends 10-Year Celebration with a special 10th Anniversary Edition of Riot Pls. The stream, which took place at 2AM BST (available to re-watch at: ​www.leagueoflegends.com​) announced a raft of new projects that significantly expand the League of Legends (LoL) IP and define the future of Riot Games as a fully player focussed multi-game, multi-genre developer and publisher.
The European Celebration has only just begun, kicking off with a deeper dive into some of the newly announced projects happening today during 'League 10-Year: Live from Europe', a livestream from ExCeL London at 7:30PM BST. For more information, please visit: celebrate.leagueoflegends.com
Here's a run-down of what was announced this morning during the 10th Anniversary Riot Pls:
League of Legends
LoL is introducing a new champion to the Rift, Senna. Originally one of the many souls trapped in Thresh's lantern and a fan favorite since her introduction in Lucian's story, Senna is the newest support to join LoL's roster of more than 140 champions and will uniquely embody a marksman-like playstyle. She will hit the Public Beta Environment on October 29th and live servers on November 10th.
Starting October 22nd on the Public Beta Environment, players will bear witness to the biggest changes to Summoner's Rift in years with Rise of the Elements, a series of preseason gameplay changes built on one of the game's most dynamic features, the Elemental Drakes. Live server players will explore these preseason features on November 20th.
For the first time in four years, LoL will bring back Ultra Rapid Fire (URF) with full champion select, a popular, chaotically fun, limited-time game mode. Additionally, all Riot products will begin gradually supporting Arabic language. And Riot will release a series of nine albums featuring music from each season of LoL on preferred streaming music platforms on October 16th.
Finally, as a thank you to all players who've set foot on the Rift, for 10 days starting October 17th, all players with accounts made prior to October 16th at 2AM BST will receive an in-game gift every day they log in and play a game, in the lead up to the actual LoL anniversary date of October 27th.