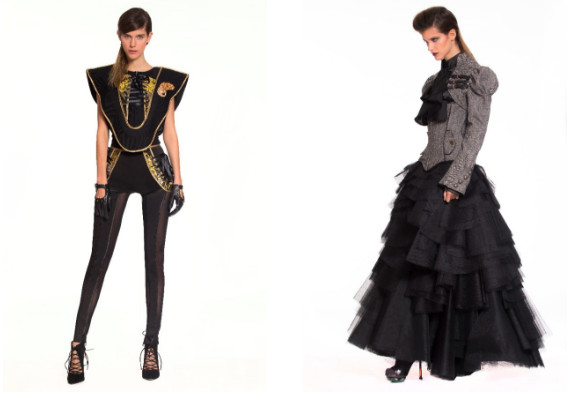 Den halvt danske og halvt argentinske mode skaber Maya Hansen har samarbejdet med Arcane Studions og frembragt mode inspireret af de stærke kvinder i Dishonered 2. Det er Emily Kaldwin og Delilah. Det kan være du skal være ca. 1,90 og med ben op til ørene for at det ser lige så flot ud til næste tur i byen. Vi har sakset pressemeddelelsen:
We're happy to announce that Maya Hansen, the famous fashion designer, has created two new costumes for the critcially acclaimed game, Dishonored 2, in collabaration with Arkane Studios! Maya has created new costumes inspired by the games' powerful feminine characters, Emily Kaldwin and Delilah.
Maya is the designer behind the MAYA HANSEN label. Maya is half-Argentinian, half-Danish, and was born and raised in Spain, where she works. Celebrities such as Lady Gaga, Kylie Jenner, Nadja Auermann, Laura Pausini, Nieves Álvarez, Violet Chachki, and Bea Åkerlund have worn Maya Hansen creations.
Well aware of the history of fashion and its evolution throughout the decades, she gets her inspiration not only from pieces of historic corsetry  but also from different trends, mixing styles such as steampunk or Victorian gothic with contemporary trends and fashionable textures.
After seeing her magnificent work, Maya was approached by the studio to create new costumes for both main female characters. Sebastien Mitton, Arkane Studios' Art Director was extremely impressed with the results: "Our designs are meant to work both in our games and in real life, as we craft and detail them with love. However when it falls into the hands of such a talented person like Maya Hansen, it's not just clothes you see, it's perfect gems!"
Maya's vision of womenswear focuses on a new elegance based on creativity and women's shapes. The mixture of fabrics, from lace to neoprene, with structured patterns that are inspired by classic corsetry, turns her designs into a new vision of couture that in this case has been deeply inspired by the world and art of Dishonored 2 and its powerful feminine characters, Emily Kaldwin and Delilah.
The critics have weighed in, calling Dishonored 2 "superb," "amazing," "impossible to put down"… in short, a "must-play" game. It's also the #1 rated game on Metacritic this Fall.
Reprise your role as a supernatural assassin in Dishonored 2, the next chapter in the award-winning Dishonored saga by Arkane Studios. Delilah, a mad witch armed with powerful black magic, has seized the throne from Empress Emily Kaldwin, leaving the fate of the Isles hanging in the balance. As either Emily Kaldwin or Corvo Attano, travel beyond the legendary streets of Dunwall to Karnaca – a once-dazzling coastal city that holds the key to restoring Emily to power. Armed with the mark of the Outsider and powerful new supernatural abilities, hunt down your enemies and forever alter the fate of the Empire.