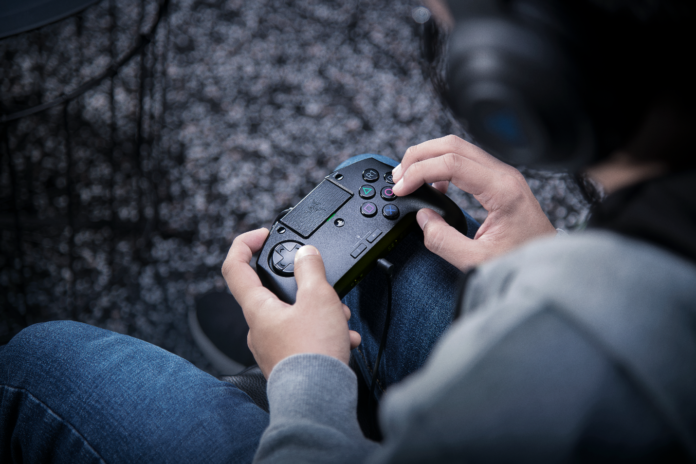 På dette års GamesCom i august var vi også forbi Razer. Her præsenterede de deres bud på en kontroller til arcade fans, Razer Raion. Den passer til PlayStation 4 og PC med de helt rigtige knapper hvis du er til Street Fighter, Tekken eller en af de mange andre arcade og/eller fighting titler. Den er lidt lettere at have med at gøre end deres Panthera som er fed selvom den kræver noget mere plads. Raion ligger rigtigt godt i hånden.
Designed from the ground up for the fighting game community, the Raion features a 6-button layout on the face of the fightpad, a tactile 8-way D-pad, and the traditional shoulder and trigger buttons. This layout offers a greater variety of input options for both standard and 'claw' grip style players. A competition mode disables extra buttons to ensure uninterrupted gaming and the PS4™ touchpad has all the console functions players expect from their controller.
Fighting game fans are some of the most passionate and dedicated players in gaming and demand the absolute best from their equipment. With matches often being determined by split second decisions, having the very best controller can be the difference between winning or a KO.
With this in mind, the Razer Raion has been designed with the help and feedback from members of the fighting game community, which has resulted in a dedicated controller that combines the best aspects from arcade sticks with those of traditional controllers.
"The Razer Raion gives the type of control and consistency that I need when playing fighting games," said Mark "MarkMan" Julio, fighting game specialist and part of Team Razer. "The great comfort and response with the D-Pad and action buttons means I can fully concentrate on enjoying the game and hitting my combos."
Arcade stick inspired face button layout
Inspired by the layout commonly found on arcade sticks, the Razer Raion's 6 face buttons are slightly larger than the industry standard and optimally spaced, making hitting those combos easier in the heat of battle.
To ensure every tap and press of the face buttons is excuted flawlessly, the Razer Raion uses Razer's Yellow Mechanical Switches for ultra-fast, accurate actuation. Built to have a staggering 80-million tap lifecycle, the same industry-leading feature found in our renowned keyboards, the Razer Yellow Switch gives instantaneous and positive response in the most demanding of competitive fights.
Mecha-Tactile 8-Way D-Pad for supreme precision
The Razer Raion features the Razer Mecha-tactile 8-way D-pad, giving players the ability to execute fast, precise diagonal inputs, which is essential in fighting games where perfect execution of quarter circle and half circle motions are often vital for winning matches.
The hyper-responsive 8-way D-pad also has a satisfying cushioned feeling with tactile feedback allowing players to better feel the inputs needed while executing combos. The higher and more defined rate of feedback gives a better sense of control, reducing the amount of missed moves when it counts the most.
PRICE & AVAILABILITY
USD $99.99 / €109.99 MSRP
The Razer Raion is now available for purchase in Europe, Asia-Pacific, China, Australia and New Zealand. It will be available soon in the USA and Canada.
ABOUT THE RAZER RAION
6 face button layout
Razer™ Mechanical Switch face buttons
Razer™ Mecha-Tactile 8-way D-pad
Button lock function for competition
3.5mm analog audio port
9.8 ft / 3 m wired cable with strain relief
Wired connection
Approximate Size: 173 mm / 6.8 in (Length) x 103 mm / 4.0 in (Width) x 58 mm / 2.3 in (Height)
Approximate Weight: 275g / 0.6 lbs