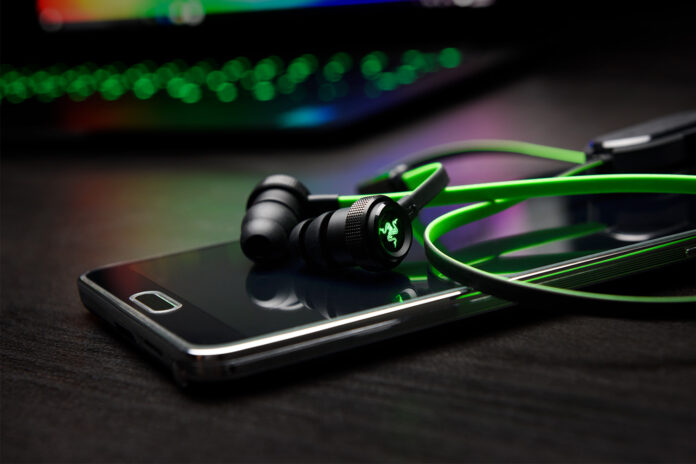 Razer er nu ude med to nye in-ear headsets. Det er Razer Hammerhead BT og Razer Hammerhead til iOS Lightning. BT udgaven er med Bluetooth mens iOS Lightning er med Digtal til Analog konverter (DAC) som anvender lightningsstikket i din iPhone ellers iPad. Vi har sakset de tekniske specifikationer og du kan finde mere via links ovenfor.
Razer Hammerhead BT:
Engineered to deliver clear and cordless audio, the new Razer Hammerhead BT is a Bluetooth 4.1 in-ear headset that features the Qualcomm aptX® codec for low-latency, high-quality audio. Mobile users may enjoy uninterrupted listening and calls with a battery life of up to eight hours per charge.
The Razer Hammerhead BT comes with an in-line remote and microphone that is compatible with iOS or Android devices, providing easy call pick-up or music track navigation.
Razer Hammerhead for iOS:
Making full use of the Lightning Connector capabilities, the Razer Hammerhead for iOS delivers clean digital audio through a custom-tuned, digital-to-analog converter (DAC). Through the Razer Hammerhead iOS companion app, users can personalize listening experiences with customizable or pre-configured equalizer settings. The Razer Hammerhead for iOS comes with an in-line control and mic that allows users to exploit Siri, as well as take calls or skip music tracks.
Both Razer Hammerhead models are outfitted with custom-tuned 10 mm dynamic audio drivers, which are larger than most earbuds in their class. An aluminum acoustic chamber enhances music reproduction while adding to durability. Each Razer Hammerhead comes with a carrying case that includes additional ear tip sizes to ensure fit and sound isolation.
"The Razer Hammerhead line of in-ear headphones and headsets are lauded for their big sound in a highly portable form factor," says Min-Liang Tan, Razer co-founder and CEO. "We are excited to expand our Hammerhead audio experience with a Bluetooth wireless option for increased mobility and a Lightning Connector version for iOS device users."
RAZER HAMMERHEAD BT FEATURES:
Headphones:
Frequency response: 20 Hz – 20 kHz
Impedance: 32 ± 15% Ω
Sensitivity: 116 ± 3 dB @ 1 kHz
Max input power: 10 mW
Drivers: 10 mm with Neodymium magnets
Cable length: 63 cm
Approximate weight: 28.0 g
Microphone:
Frequency response: 300 Hz – 3.4 kHz
Signal-to-noise ratio: ≥ 55 dB
Sensitivity (@1 kHz): 42 ± 3 dB
Pick-up pattern: Omnidirectional
In-line remote:
Music controls: Play/pause, next, back
Call controls: Answer, end, reject call
General: Volume up/down, pair, power
Full functionality on Apple™ iOS and Android mobile devices
Battery:
Battery type 160 mAH rechargeable Li-Po battery
Battery life: Up to 8 hours
Charge time: Up to 2 hours
Range:
Bluetooth wireless range: 10 m
Package contents:
Razer Hammerhead BT in-ear gaming & music headset
3 pairs of sized silicon ear tips
1 bi-flange ear tip attachment
1 compact carrying case
RAZER HAMMERHEAD FOR IOS FEATURES:
Headphones:
Frequency response: 20 Hz – 20 kHz
Impedance: 32 ± 15% Ω
Sensitivity: 102 ± 3 dB @ 1 kHz
Max input power: 10 mW
Drivers: 10 mm with Neodymium magnets
Cable length: 1.3 m
Approximate weight: 19.6 g 
Microphone:
Frequency response: 100 Hz – 3.4 kHz
Signal-to-noise ratio: ≥ 58 dB
Sensitivity (@1 kHz): 42 ± 3 dB
Pick-up pattern: Omnidirectional
In-line remote:
Music controls: Play/pause, next, back, fast forward/rewind
Call controls: Answer, end, reject call. Launch Siri
General: Volume up/down
Full functionality on Apple™ iOS
Package contents:
Razer Hammerhead for iOS in-ear gaming & music headset
3 pairs of sized silicon ear tips
1 bi-flange ear tip attachment
1 compact carrying case