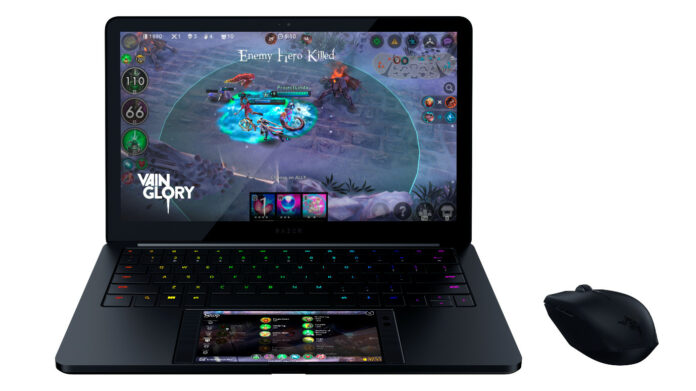 Da vi sidste år så Razers bærbare med hele 3 skærme så var det også en nyskabelse som skabte meget opmærksomhed. I år er der så Project Linda og deres trådløse strøm Hyperflux som tager alle priserne. Vi tidligere haft denne nyhed og herunder finder du meddelelsen om de mange priser.
The Project Linda Android laptop/phone hybrid from Razer won 20 "Best of CES" show honors, breaking the company's own records from previous concepts, including Project Valerie (2016), Project Ariana (2016), Project Fiona (2012) and the Razer SwitchBlade (2011).
Project Linda is an ultraportable laptop design powered by the Android-based Razer Phone. The docked phone serves as a processing power source and intelligent touchpad, bridging the gap between handheld entertainment and laptop convenience.
The Verge awarded Project Linda with "Best of CES," and similar accolades were received from Mashable, Ars Technica and many other publications.
"We enjoyed showing the world the future of mobile computing with a working Razer Phone and Blade laptop hybrid," says Min-Liang Tan, Razer CEO and co-founder. "It was a historic show for us, with more awards than ever before."
Razer's past official "Best of CES" honors included "People's Voice" in 2011 and 2012; "Best of Show," "Best Gaming" and "People's Voice" in 2013; "Best PC" and "People's Choice" in 2014; "Best Gaming" and "People's Choice" in 2015; "Best PC" and "People's Choice" in 2016; and "People's Choice" in 2017.
The company is welcoming feedback on Project Linda via Razer's social channels, including Razer Insider, Facebook and Twitter, for those interested in shaping the future of the Android laptop hybrid concept.
In addition to Project Linda, Razer received significant attention for the Razer Mamba HyperFlux, the world's first battery-less, wireless gaming mouse. The latest addition in Razer's best-selling wireless line, the Razer Mamba and Firefly HyperFlux, earned five awards as of the date of this release. The Mamba and Firefly HyperFlux combo was awarded PCMag's "Best Gaming Gear of CES 2018," Digital Trends' "Best Mice of CES 2018," and more.
Razer Project Linda
9to5Google – CES 2018: Best of CES
Alphr.com – CES 2018: Best of CES
Android Authority – CES 2018: Best of CES
Android Central – CES 2018: Best of CES
Android Police – CES 2018: Best of CES
Ars Technica – CES 2018: Biggest Surprise
LAPTOP Magazine – CES 2018: Best Concept
Mashable – CES 2018: Best Laptops
Mr.Mobile – CES 2018: Best of CES
Notebooks.com – CES 2018 Excellence Award
PC Pro – CES 2018: Best of CES
Phone Scoop – CES 2018: Most Innovative
Popular Mechanics – CES 2018: Best of CES
Royal Flush Magazine – CES 2018: Editors' Choice
Tech Advisor – CES 2018: Best of CES
TechnoBuffalo – CES 2018: Best of CES
The Verge – CES 2018: Best CES
TweakTown – CES 2018: Best of CES
Ubergizmo – CES 2018: Best of CES
Windows Central – CES 2018: Best of CES
Razer Mamba & Firefly HyperFlux
Digital Trends – Best Mice of CES 2018
PCMag – CES 2018: Best Gaming Gear
T3 – Best of CES
Tom's Guide – CES 2018: Best Gaming Peripheral
WIRED – CES 2018: Best of CES