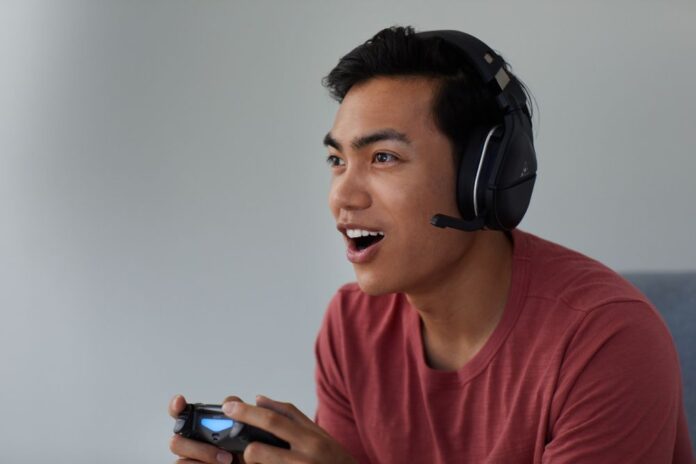 Turtle Beach har netop annonceret, at de nye Stealth 600 Gen 2 og Stealth 700 Gen 2 gaming headset lander på de danske butikshylder fra starten af oktober.
Gen 2 bliver næste generation og efterfølgere til de meget roste Turtle Beach Stealth 600 og Stealth 700 headset, som også er nogle af de bedst sælgende headsets overhovedet. Gen 2 er designet til at løfte successen til endnu nye højder med et raffineret, premium build, et mere moderne og strømlinet design. Derudover kommer Gen 2 med en super kompatibilitet på tværs af generationerne af konsoller, hvilket betyder at det nye headsets fungere perfekt til både Xbox One / Xbox Serie X | S og PlayStation®4 / PlayStation®5, med andre ord er du sikret super lyd din både din nuværende konsol samt de kommende.
Med kraftig og detaljeret lyd designet til gaming, trådløs forbindelse, og med en større mikrofon for at gøre chat mere krystalklar, er man med det nye Stealth Gen 2 headset opdateret over hele fronten. Mikrofonen er også designet sådan at den nu helt problemfrit kan drejes tilbage så den smelter sammen med resten af headsettet. Med Gen 2 bliver det en opgraderet fortsættelse af de ellers populære Stealth 600 og Stealth 700'erne, som på nuværende tidspunkt er de bedst sælgende trådløse spilheadset.
Stealth 600 Gen 2 og Stealth 700 Gen 2 fås hos danske forhandlere og fra www.turtlebeach.com til de samme attraktive anbefalede udsalgspriser som forgængerne til henholdsvis: 799 DKK og 1.199 DKK
Leading gaming headset and audio accessory brand Turtle Beach (NASDAQ: HEAR) today announced the new Stealth 700 Gen 2 and Stealth 600 Gen 2 gaming headsets for PlayStation and Xbox will be available starting October, 2020. The Gen 2s are successors to Turtle Beach's highly-acclaimed Stealth 700 and Stealth 600 headsets, and are designed to propel the best-sellers2 to new heights with a refined, premium build and sleeker look, and cross-generation console compatibility with Xbox One and Xbox Series X | S, and with PlayStation®4 and PlayStation®5. Couple that with powerful game sound, crystal-clear chat through a larger flip-to-mute mic that seamlessly blends into the earcup, plus all-day comfort, and the Gen 2s are destined to continue the Stealth 700 and Stealth 600's run as best-selling wireless gaming headsets. Stealth 700 Gen 2 and Stealth 600 Gen 2 will be available at participating retailers worldwide and from www.turtlebeach.com for the same attractive MSRPs as their predecessors at 149,95 USD/1.199 DKK and 99,95 USD/799 DKK, respectively.
"These new Stealth 700 and 600 Gen 2 headsets offer gamers two incredible wireless options for both current and next-gen consoles that will further our reputation for delivering the best gaming headsets," said Juergen Stark, CEO, Turtle Beach. "On top of the record growth we're seeing this year, we're excited to launch the next generation of our top-selling wireless headsets into what we expect will be an exciting holiday season with big game launches and new Xbox and PlayStation consoles."
Stealth 700 and 600 Gen 2s were created to continue the legacy of the two best-selling products in their price tiers3 since launching in 2017. The Gen 2 versions once again deliver the perfect combination of advanced and seamless wireless connectivity, powerful game audio, crystal-clear chat, unrivaled comfort and build quality, innovative and impressive features, and an accessible price. Full details for the Stealth 700 Gen 2 and Stealth 600 Gen 2 below:
Stealth 700 Gen 2
Turtle Beach's Stealth 700 Gen 2 features a host of updates including upgraded performance, comfort and styling. Game audio on the Stealth 700 Gen 2 has been tuned and refined to deliver even more detailed and precise sound, giving gamers a better chance to hear everything and defeat everyone. A larger, high-sensitivity flip-to-mute mic enhances chat clarity and seamlessly conceals into the earcup when muted. Aerofit™ cooling gel-infused memory foam ear cushions surround upgraded 50mm Nanoclear™ speakers, and a redesigned metal-reinforced headband provides long-lasting comfort and durability. Battery life has been upgraded significantly with a 20-hour lifespan. Gamers can also use Bluetooth® to connect to the all-new Turtle Beach Audio Hub app to easily customize their audio and program the headset's remappable dial and button, as well as to simultaneously listen to music or take mobile calls while gaming. Xbox fans can once again take advantage of Xbox Wireless technology which automatically connects the headset directly to the console.
Stealth 600 Gen 2
The Stealth 600 Gen 2 also includes meticulously refined audio, as well as a larger high-sensitivity flip-to-mute mic that delivers crystal-clear chat and now seamlessly integrates into the headset when muted. The Stealth 600 Gen 2's headband and hinge design have been reinforced for added long-term durability, and plush, glasses-friendly ear cushions provide comfort while the 50mm speakers produce high-quality, immersive game sound. A user-friendly audio preset button on the headset allows for easy access to customize audio, and gamers can still count on Turtle Beach's exclusive Superhuman Hearing® for an audio advantage on the battlefield. Finally, connectivity on Xbox is still easy as ever, using Xbox Wireless technology so gamers can connect to their Xbox with the push of a button.