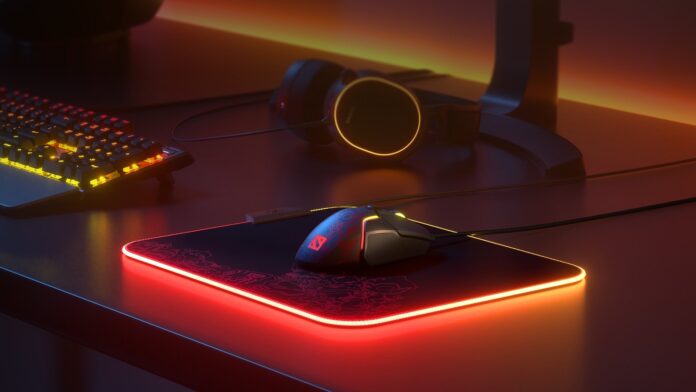 SteelSeries har i samarbejde med Valve lavet et eksklusivt Dota 2 sæt af tilbehør. Dette passer lige med The International 2019 og det er Rival 600 musen med QcK Prism Cloth musemåtten som er udsmykket af Ced Alcalde
Rival 600 Dota 2 Edition
In January 2018, the Rival 600 launched with the world's first esports sensor system with true 1-to-1 tracking, the TrueMove3+. Engineered in collaboration with PixArt, the TrueMove3+ is a dual-sensor system that offers the lowest and most accurate lift off distance detection in gaming. In addition to the TrueMove3+, the Rival 600 Dota 2 Edition features the new customizable weight tuning system allowing gamers to choose between 96g to 129g of weight. The weight system also allows gamers to fine tune the mouse's center of gravity for the perfect balance of any grip or game play style.
Dota 2 is the hugely successful online battle arena with an annual global tournament called The International. This year's tournament will be hosted in Shanghai the end of August and has a growing prize pool of more than $30 million.
Dota 2, as well as other popular Valve games including Counter-Strike: Global Offensive, are fully supported in SteelSeries Engine. SteelSeries Engine allows gamers to easily customize the RGB lighting of SteelSeries peripherals for in-game events like health being low, buyback status or the respawn timer. SteelSeries Engine also features Discord integration for notifications of new messages, mic mute status and more.
The Rival 600 Dota 2 Edition is the culmination of six years of the partnership between SteelSeries and Valve, a focus on community art, combined with SteelSeries' award-winning products. The Rival 600 Dota 2 Edition is available in NA for $89.99, in EMEA for €99.99 and in APAC for $99.99.
QcK Prism Cloth Dota 2 Edition
The QcK Prism Cloth Dota 2 Edition is an official Dota 2 RGB gaming mousepad with two-zone RGB for in-game reactive effects and Discord notifications and exclusive QcK micro-woven cloth for maximum control.
The 320mm x 270mm x 4mm mousepad features a durable, non-slip rubber base designed to eliminate unwanted movement and provide a solid platform for intense gaming. Tested by the top mouse sensor manufacturer, PixArt, the high thread count and smooth surface optimizes mouse tracking accuracy for both optical and laser sensors. Users can easily sync the RGB lighting of both their QcK Prism Cloth and Rival 600 through the PrismSync app on SteelSeries Engine.
The QcK Prism Cloth Dota 2 Edition is available in NA for $49.99, in EMEA for €49.99 and in APAC for $49.99. TI9 attendees can also purchase both the Rival 600 and QcK Prism Cloth Dota 2 Editions in-person at the Secret Shop while supplies last.
For more information about the complete line of Dota 2 Edition SteelSeries products, visit steelseries.com/dota-2.