Så er danske Steelseries aktuelle med en opdateret udgave af ders populære Apex 9 tatstatur serien. Serien kommer nu med verdens hurtigste optiske taster. Du finder den i den helt lille udgave som er 60% størrelse og den mere almindelige Ten Key Less (TKL) som ikke har den numeriske blok.
Apex 9 Mini – 1049 kr.
Apex 9 TKL  – 1149 kr.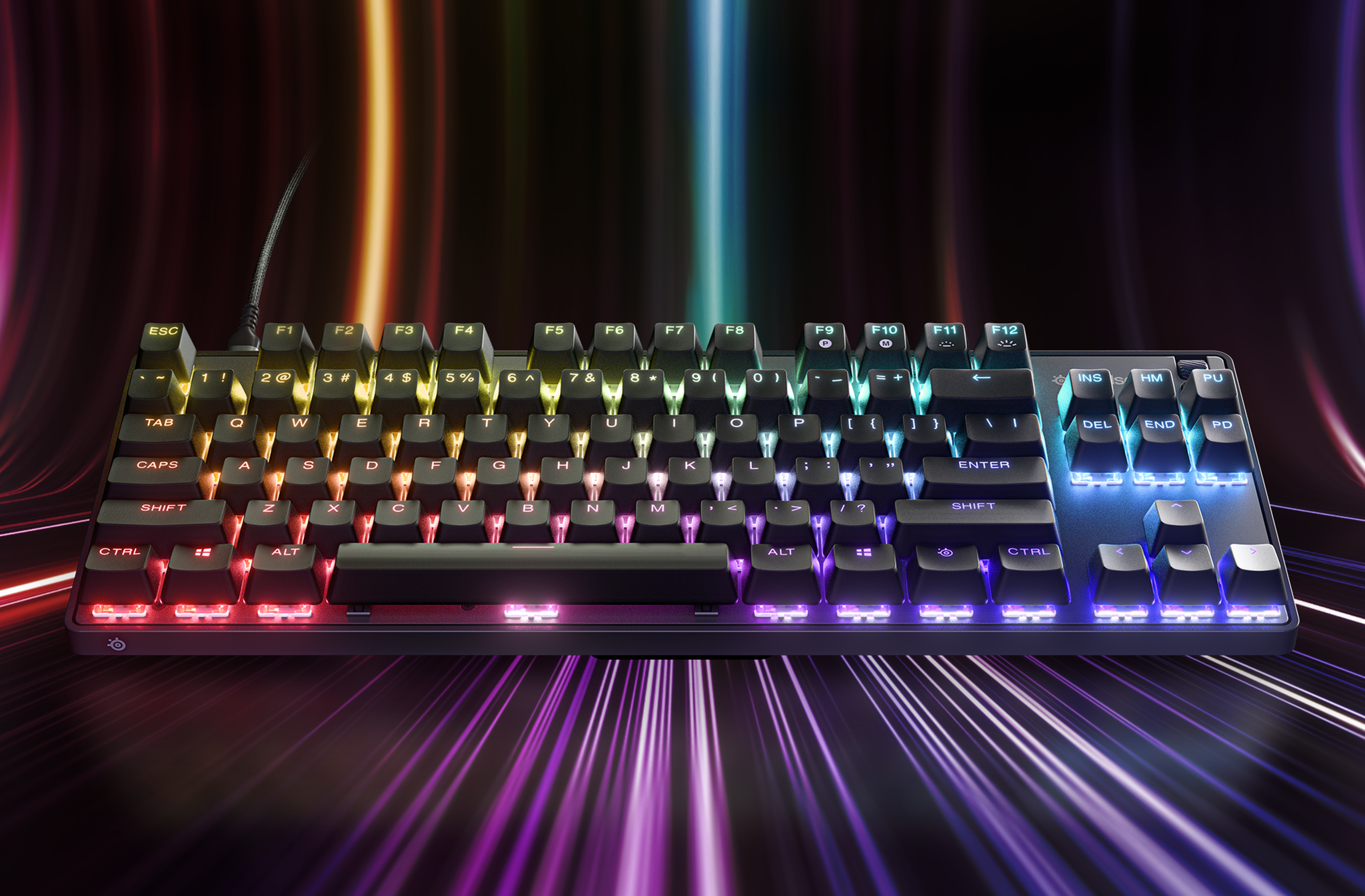 SteelSeries, the worldwide leader in gaming and esports peripherals, today introduced its newest tech innovation with the launch of the Apex 9 series keyboards. Built from the ground up to help serious gamers create their own momentous occasions, the Apex 9 series is fast, customizable, esports-ready, and powered by new SteelSeries OptiPoint technology.
Faster equals more wins. For the first time, the industry-leading innovation brand for gamers brings an optical switch to its award-winning line of Apex keyboards. SteelSeries OptiPoint tech delivers the very best performance and design with hot-swappable optical switches that actuate 33% faster than the leading optical keyboard, a response time of just 0.2ms with zero debounce, and 2-point actuation adjustment.
Customization is key. Through SteelSeries GG, the brand's software ecosystem, the Apex 9 series keyboards allow gamers to create personalized settings for everything from RGB lighting to preferred Actuation Point. Users can choose between a performance-driven 1mm actuation point or a deeper and more deliberate 1.5mm on a per-key basis. For further customization, Apex 9 users can swap their switches and choose between Linear, Tactile and Clicky switches to truly make the Apex 9 their own.
Play like the pros. As the adoption of smaller keyboards increases among professional esports players, the new Apex 9 series features SteelSeries' new streamlined ID for aspiring pros and casual gamers to create sleek setups. Engineered for elite performance, the new line of keyboards comes standard with the new OptiPoint switches and are available in two esports-ready form factors – the SteelSeries Apex 9 TKL and SteelSeries Apex 9 Mini.
Apex 9 TKL – The esports-ready APEX 9 TKL (tenkeyless) design is preferred by the world's leading players and provides comfort, familiarity, and more flexibility for large mouse movements while giving better ergonomics, so gamers can play harder and longer. SteelSeries' groundbreaking OptiPoint optical switches react with a lightning-fast speed, in combination with the 1mm actuation point, to earn players the top spot. Gamers will experience fadeproof durability and enhanced keystroke feel with specially designed Double Shot PBT keycaps, and an aluminum top plate that fuels win streaks with unbreakable durability.
Apex 9 Mini – The mini is mighty, providing everything gamers need in a small package. For those who want to completely maximize their gaming space, the Apex 9 Mini's 60% form factor gives users more desk space for big deliberate mouse sweeps and movements while offering all the capabilities of a full-size keyboard through printed secondary functions. Custom-built OptiPoint switches harness the power and speed of light for a 0.2ms response time and keystrokes with zero debounce. Double Shot PBT Keycaps are renowned for their durability, quality, and sound, so when gamers have key switches that last 100M presses, they have elite keycaps to match.
Available at SteelSeries.com and retailers around the world, the Apex 9 TKL and Apex 9 Mini are available for the following MSRPs:
Apex 9 Mini – 1049 kr.
Apex 9 TKL – 1149 kr.