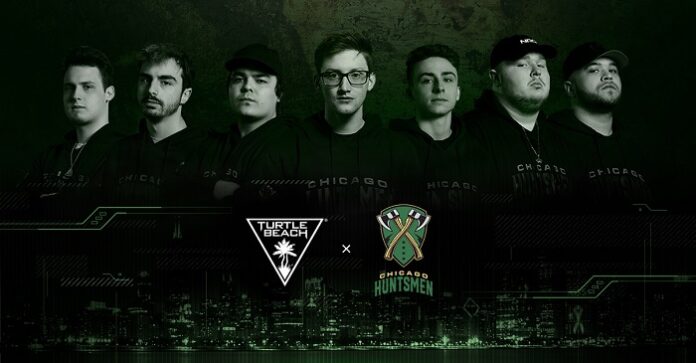 Chicago Huntsmen Call of Duty League (CDL) som ejes af NRG Esports og ledes af Andy Miller og Hector "H3CZ" Rodriguez har nu indgået et samarbejde med Turtle Beach. Det betyder at de kommer til at benytte Turtle Beach udstyr og deltage ved forskellige events. The Huntsmen har deres første match i Call of Duty League Launch Weekend turneringen i Minneapolis, Minnesota som kører over weekenden.
"Hector's passion for gaming, his ability to create first class, dominant esports organizations, and his engagement with fans are why we love working with him and why we're excited about this new partnership with the Chicago Huntsmen," said Juergen Stark, Chairman and CEO, Turtle Beach. "Hector is a pioneer in our industry, as well as a loyal and forward thinking partner and we can't wait to collaborate with him on future product innovations and activations with the Chicago Huntsmen players, staff, content producers and fans."

The partnership with the Chicago Hunstmen will see the team using Turtle Beach's original Elite Pro and Elite Pro 2 gaming headsets for team play, as well as all streaming activities. Additionally, Turtle Beach intends to work directly with H3CZ and the Chicago Hunstmen players to create a wealth of unique, engaging and fun content to support the Turtle Beach brand.

"What can I say? Turtle Beach has been a great partner over the years, so as I build another winning organization with The Huntsmen it's important that they have the very best equipment," said Hector Rodriguez, Co-CEO, NRG Esports. "Turtle Beach has been a part of my life in gaming since the very beginning, and I'm excited we get to continue stacking up more wins and creating more amazing content together."

The Chicago Huntsmen starting lineup includes Seth "Scump" Abner, Matthew "FormaL" Piper, Dylan "Envoy" Hannon, Peirce "Gunless" Hillman, and Alec "Arcitys" Sanderson, and they are joined by fellow Chicago Huntsmen squad members Jordan "General" General and Marcus "MBoZe" Blanks, alongside head coach Troy "Sender" Michaels and analyst John "x2Pac ThuGLorD" Hartley. Scump is a 2017 CWL World Champion with OpTic Gaming and was a 2016, 2017, and 2018 CWL Pro League All-Star. Formal is a 2017 World Champion and 2017 World Champion MVP with OpTic Gaming. Envoy was a 2019 CWL Pro League All-Star. Gunless was the MVP as the CWL Atlanta Open in 2017 and the Seattle Open in 2018, and was also a 2018 CWL Pro League All-Star. Arcitys was a 2019 CWL World Champion with EUnited, and was also a 2017 CWL Pro League All-Star.