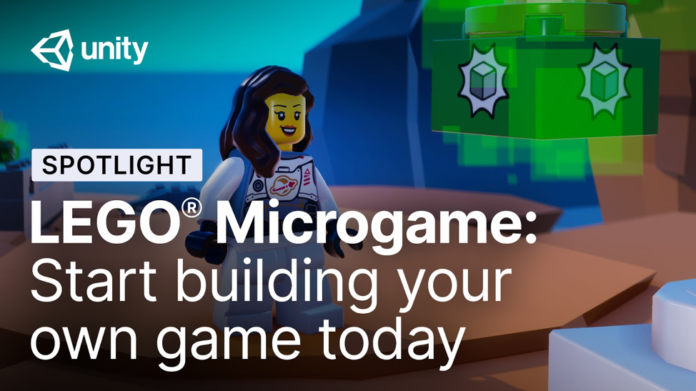 Unity og LEGO Games lancerer i dag et microgame.
Spillet er en slags kodning for begyndere, hvor brugere brik for brik kan lære at lave spil uden at kode – gennem LEGOs kreative og innovative univers. Med det nye samarbejde vil de to virksomheder bl.a.:
vise, at alle kan udvikle spil uden at skulle kode
give en kreativ indflyvning til spiludvikling, der er både sjov og lærerig 
give brugere mulighed for at styrke deres digitale kompetencer, så de står stærkere på et jobmarkedet, der efterspørger flere og flere digitale færdigheder.
Det er to store danske produkter der her går hånd i hånd. Du er selvfølgelig klar over at LEGO kommer fra Danmark nærmere bestemt Billund, selvom de færreste ved at Unity er skabt i hjertet af København. Aktuelt bliver der gjort en masse for at skabe mere opmærksomhed at det at kode og her forener LEGO og Unity kræfterne. Læs med og se mere i trailerne nedenfor. Der er også en række undervisningsmoduler som du kan deltage i.
Simple in-Editor tutorials allow new users to follow a guided path that moves quickly from opening your first project to publishing and sharing your first 3D game in less than an hour. You'll understand how everything clicks together while going at your own pace, making your own creative decisions and personalizing your experience along the way. Here are just a few ways you can have fun:
Snap together LEGO Behaviour Bricks with embedded gameplay actions that make it easy to construct the interactive LEGO world you want, brick by virtual brick.
Select and play with your favorite LEGO minifigure character among four created by LEGO Games (exclusively for this Microgame!).
Personalize your game with different Creative Mods plus Add-On themes you can download from the Unity Asset Store to make your game truly unique.
Share your playable game with friends, and get inspired by discovering and playing games from other creators on our play.unity.com website. 
Ready to get started?
New Users: On a laptop or personal computer, visit our LEGO Microgame landing page and click Get started at the top.
Current Users: Make sure you have Unity 2019.4 LTS → open the Unity Hub (v2.4.2 or later) → select the Learn tab → pick LEGO Microgame
Keep personalizing your game with Creative Mods and Add-Ons
Combining famous LEGO elements with Unity's extensibility and workflows made the LEGO Microgame a perfect vehicle to demonstrate how virtual bricks connect like the real ones. By simulating this physical-to-virtual world LEGO creation, we're giving new users a relatable, authentic experience right out of the box, with an ever-expanding list of ways to integrate additional features into your games.
As shown below, there are many Creative Mods and Asset Store Add-Ons to choose from, with more to come.
Nine ways to Mod up your game
On our Unity Learn | LEGO Microgame page, you can find nine cool ways to update and personalize your game while learning Unity basics. Creative Mod options include choosing your own minifigure, building your own custom enemy, creating a locked area to hide loot and more! 
If you REALLY want to supercharge your game experience (especially AFOLs, Adult Fans of LEGO), we worked with LEGO Games and BrickLink – an online marketplace to buy and sell LEGO parts, minifigures, and sets – to enable you to import MOC (My Own Creation) components built in Studio. 
Nine ways to Add-On to the fun
The Unity Asset Store is a massive catalog of 2D and 3D models, textures, templates and other tools to speed up your game development. To start, the LEGO Microgame offers nine free Add-Ons, including the four "unlockables" below, with fun themes and different extras that you can download from the Asset Store to dial up your game's excitement.
Unlockable Add-Ons
Knight's Kingdom – unlock by sharing your game
Space Cadet – unlock by updating your game
Danger Zone – unlock by attending the Game Jam on November 19 (see next section)
Island Adventure – unlock by entering a Showcase (see next section)
Show off your game, and get tips from Unity and LEGO design experts
Whether you prefer to tinker and experiment or like a more structured learning experience, we have exciting opportunities around the corner for you. For example, you can engage directly with the Unity and LEGO design experts behind the Microgame in our Unity x LEGO Live Learning Series, Game Jams, and Showcases. Choose what fits your style best – and we hope to see you online soon!
Unity x LEGO Live Learning Series
WHAT: A fun experience where you explore how to customize and iterate on your LEGO Microgame. 
WHY: Unity and LEGO design experts host each session! You'll have an opportunity to ask them questions and get feedback on your game.
WHEN: The format is four weekly, one-hour live sessions at 9:00 am PT (12:00 pm ET, 6:00 pm CET) starting Monday, November 9. The last session is on Monday, November 30. Sessions will be recorded.
HOW: Register on our sign-up page.
Unity x LEGO Game Jam
WHAT: An interactive fun livestream to highlight cool stuff you can build, and to encourage you to make and share your first LEGO Microgame.
WHY: Unity and LEGO design experts host each session! We'll build a cool obstacle course together that will inspire new ideas for your own game.
WHEN: Thursday, November 19 at 10:00 am PT (1:00 pm ET, 7:00 pm CET). It will last for 2–2.5 hours.
LEGO Microgame Showcases
WHAT: These events encourage users to submit their LEGO Microgame creations for a chance to be featured on our LET'S PLAY! livestream.
WHY: In addition to the spotlight opportunity, you can earn digital badges for your profile. We'll also play a shortlisted selection of games from the Showcase and award the best ones during a livestream on UnityTech (our Twitch channel) a few days after it closes.
WHEN: The first Showcase kicks off November 19, with entries accepted through December 16. More LEGO Microgame Showcases will be announced at a later date.
HOW: Visit Unity Connect for general Showcases and to share your LEGO Microgame. You'll need your Unity ID to share on this platform.
Start creating your LEGO Microgame today
New Users: On a laptop or personal computer, visit our LEGO Microgame landing page and click Get started at the top.
Current Users: Make sure you have Unity 2019.4 LTS → open the Unity Hub (v2.4.2 or later) → select the Learn tab → pick LEGO Microgame