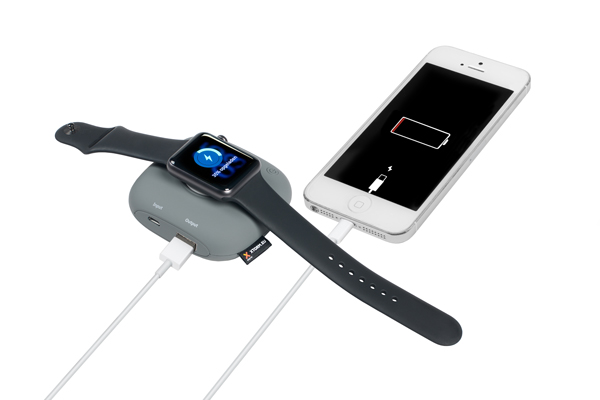 Den her er faktisk en af de mere sjove gadgets hvis du har valgt et Apple Watch. Powerbanken kan lade både din iPhone og Watch trådløst. Vi har sakset pressemeddelelelsen:
Xtorm, manufacturer of mobile charging solutions, has launched the Xtorm Apple Watch Charger Boost making it easy to charge the Apple Watch while travelling.
While charging an iPhone or iPad on the go has become perfectly normal, thanks to Power Banks, charging an Apple Watch proved more awkward as it required a special cable. With the arrival of the Xtorm Apple Watch Charger Boost, that problem is now a thing of the past. This wireless charger makes it easy to charge an Apple Watch on the go.
The 4000mAh Apple Watch Charger Boost can charge an Apple Watch up to six times. It can also be used to charge another mobile device, such as an iPhone or action camera using the USB output. The Charger's own battery can easily be charged from the mains or a laptop/pc using the micro USB cable supplied.
The Apple Watch Charger is very easy to use. To charge the Apple Watch simply place it on the Charger and press the on/off button. The LED lights on the top of the Charger indicate the remaining battery capacity, showing you at a glance when it's time to re-charge the Charger itself.
MFi Licence
This Charger has an official MFi Licence, meaning that it has been made to work well, safely and easily with Apple devices.
The Apple Watch Charger Boost is compact and lightweight and therefore conveniently portable. All in all, it's the ideal back-up battery to charge an Apple Watch whenever and wherever you need to.
Price and availability
The recommended retail price of the XPD17 Xtorm Apple Watch Charger Boost is €79 incl. VAT. The Apple Watch Charger is available from various (online) shops and on Xtorm.eu. Xtorm offers a 2-year guarantee and unlimited helpdesk support on all its products.