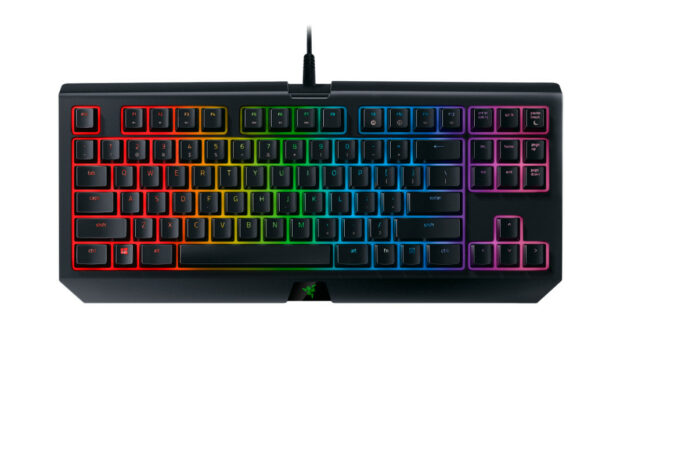 Så er der godt nyt til alle der leder efter de små marginaler for at vinde en kamp. Razer kommer med deres turnerings tastatur BlackWidow Tournament Edition Chroma V2 som kan alt hvad du leder efter og mere til. Det er et kompakt fuld størrelse tastatur der har Razer Instant Trigger teknologi. Vi har sakset dette:
The Razer BlackWidow TE Chroma V2 is the compact mechanical gaming keyboard built for competitive gamers looking for rapid reaction speeds. The new keyboard boasts Razer's new Instant Trigger Technology (ITT), enabling industry-leading response times within a gaming keyboard. Upon actuation of a single key, Razer's ITT cancels any delay between key actuations to provide rapid response from your keyboard to your system.
The Razer BlackWidow TE Chroma V2 offers users the choice between Razer's multi-award winning mechanical Green, Orange or Yellow switches. Designed without a tactile bump or click, the Razer Yellow switches are silent and rapid to meet the demands of fast-paced first person shooter (FPS) and online multiplayer battle arena (MOBA) type games. With an unmatched response rate, Razer Yellow switches offer a 1.2mm actuation point, is 40 percent faster than standard mechanical key switches, and has been tested under the most intense gaming sessions to ensure a lifespan of up to 80 million keystrokes.
"Gamers rely on their gear to react and respond as fast as they do no matter the situation, from landing a headshot to combining ultimate abilities as a team," says Min-Liang Tan, Razer co-founder, and CEO. "Timing is critical. The BlackWidow TE Chroma V2's Instant Trigger Technology works hand-in-hand with our Yellow switches, setting the bar for the industry's fastest response rating on a keyboard with the ultimate combination of hardware and software."
Designed for portability, the Razer BlackWidow TE Chroma V2 keyboard includes a compact, tenkeyless layout, and detachable USB braided cable. A new magnetic ergonomic wrist rest is also offered for extreme comfort while gaming and is detachable for maximum portability.
The Razer BlackWidow TE Chroma V2 features individually backlit keys that are powered by Razer Chroma™ technology, which unlocks customizable lighting features that can be synced across devices. Gamers can choose from 16.8 million colors and a variety of effects. Custom settings can be created using the Razer Synapse software platform and shared with millions of other Razer software users via the Razer Chroma Workshop. In-game Razer Chroma lighting profiles are also integrated into popular game titles, including "Overwatch" and "Call of Duty."
The Razer BlackWidow Chroma TE V2 is available for order now from RazerStore.com.
Price:
EU €149.99
Availability:
Razerzone.com – Available Now
Worldwide – August 2017
Product features:
• Razer™ Mechanical Switches with 50 g actuation force (Green)
• Razer™ Mechanical Switches with 45 g actuation force (Orange / Yellow)
• 80 million keystroke life span
• Detachable braided USB cable
• Razer Chroma™ customizable backlighting with 16.8 million color options
• Ergonomic magnetic and detachable wrist rest
• New Instant Trigger Technology
• Inter-device synchronization