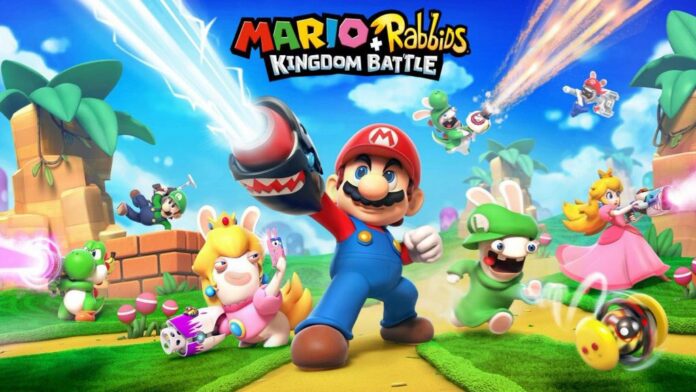 For en uge siden snakkede vi om Mario + Rabbids Kingdom Battle var en realitet eftersom et ret detaljeret billede blev lækket.
Nu er der så endnu flere detaljer om dette spil. Og vi må sige at det ikke er småting det omhandler denne gang. Gemastsu har nemlig samlet op på en masse detaljer der er lækket fra spillet, så dem vil vi lige dele med jer også:
History

Development began three years ago (2014). Ubisoft approached Nintendo with the proposal using the standard pitching process for a game to be greenlit at Nintendo.
Multiple Ubisoft representatives have claimed that to see prototypes of a Wii U version of the game at various points in development, suggesting it was once planned for Wii U.
While the game is being made by both Ubisoft Paris and Ubisoft Milan, the latter is handling the core creative direction.
Development
Nintendo has closely overseen the project, and their approval is required for anything concerning the use of their characters, but most of Ubisoft's ideas have been met with little resistance.
In an early prototype, there was a boss battle against a Donkey Kong-themed rabbid, which has access to a pile of bananas it can use to replenish its health. Players need to cut off its banana supply to prevent it from replenishing its health before they can deal any real damage. The boss will dab periodically if it properly lands an attack. Once it is defeated, the Princess Peach-themed rabbid in the player's party pulls out a smartphone and takes a selfie with the boss before it collapses.

Game Details

Each of the game's eight playable characters has an individual skill tree through which they can develop their own special abilities. Each character starts with a base skill that they an later improve, and can also learn new skills.
Mario has a passive ability which enables him to automatically fire at an enemy if they enter his field of vision during the enemy's turn.
Princess Peach has the powerful ability to inflate enemies using a foot pump until they explode.
Some skills are common across multiple characters.
The campaign is expected to be 20 hours or so long.
Sources recall indications that an online mode was being tested several months back, although this mode was inaccessible in said test builds. The full game will at least offer two-player local co-op. An additional "Arena" mode was also spotted in the test user interface, promising local co-op action.

Amiibo

Amiibo support is planned. There is an apparent "Amiibo Machine" feature, but its functionality is not yet clear.
Multiple sources claim Ubisoft has been producing prototype figurines of some of the game's characters.

Reveal and Release

Mario + Rabbids Kingdom Battle was originally intended to be unveiled in January during Nintendo Switch Presentation 2017, but was pushed back to receive further polish and will instead be revealed at E3 2017.
The release date is currently scheduld for August, though it may slip into September depending on how the final months of development progress.
Så nu må vi bare læne os tilbage til årets E3 og håbe på spillet bliver officielt annonceret, for vi må erkende at det lyder som et spil der kunne glæde mange.