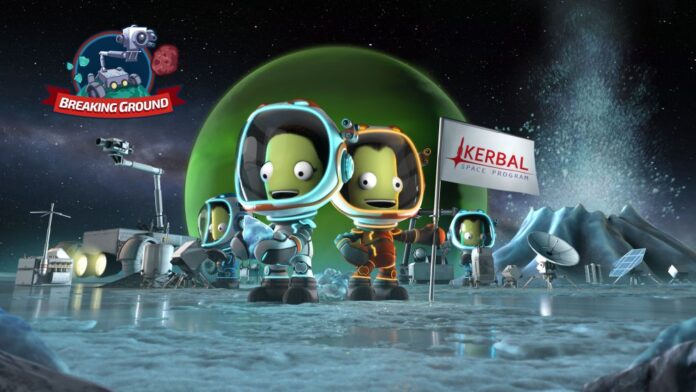 Så er der ny udvidelse til de kære rumnørder Kerbal i form af Breaking Ground der udkommer 30. maj. I deres utrættelige søgen for mere viden er det nu blevet tid til at blive beskidt. Så i denne udvidelse får du mulighed for at lave robotter som kan landes på planeterne. Der er nye rumdragter og meget andet. Vi har sakset pressemeddelelsen:
Brand new downloadable content for Kerbal Space Program is on its way! Filled with new content and features, Kerbal Space Program: Breaking Ground Expansion will give new meaning to the Kerbal scientific endeavours.
Breaking Ground is all about exploration, experimentation, and technological breakthroughs. Study the soaring plume of a cryovolcano on Vall, mysterious craters on Moho, and even more new features on all of the other moons and planets of the Solar System. Deploy experiments for the long-term study of Minmus and let them collect data while you explore further sights. Test your creativity with a new suite of robotics parts. Breaking Ground will help you and the Kerbals reach new horizons, all in the name of Science!
These are the most significant features coming to Kerbal Space Program: Breaking Ground Expansion.
Robotic Parts
Brand new robotic will add a whole new level of creativity to your craft. These parts will include some new control mechanics and let you create all sorts of inventive vehicles and crazy contraptions to aid the Kerbals in exploring their Universe!
Surface Features
Scattered across the Kerbin System, you'll find interesting Surface Features, like mineral formations, meteors, craters, and some even more curious planetary features. Study them and collect valuable scientific data with a brand-new Rover Arm!
Deployed Science
Bring equipment for experiments with you from Kerbin and deploy them on the surface of a celestial body to take measurements over time. Set up a science station and put your crew to work. From seismometers to weather stations, there are plenty experiments for you to try out!
New Space Suit
Kerbals are also getting a fresh new space suit to wear for their scientific endeavors! This sleek futuristic suit will make your Kerbals look flashy while they explore the canyons of Duna, the shores of Laythe, or any other exotic destination.
Kerbal Space Program: Breaking Ground Expansion will be released on May 30th for PC for $14.99 USD. And yes, we're keeping our promise that all players who purchased the game through April 2013 will receive the expansion for free. We'll provide more details on how that will work before launch.