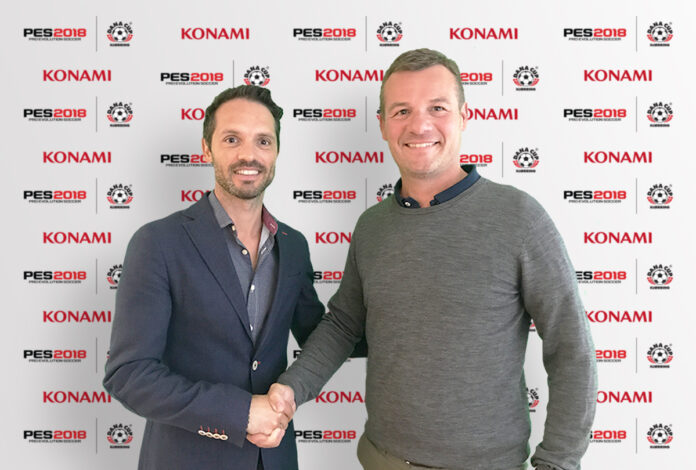 Fra mandag d. 24. juli og frem til lørdag d. 29. juli løber er af de største fodbold turnering for unge af stablen. I åre bliver KONAMI sponsor. De står også Pro Evolution Soccer som er i en rivende udviklet og utroligt populært.

Vi har sakset pressemeddelelsen:
Konami Digital Entertainment B.V. has today announced their sponsorship of the Dana Cup, one of the world's largest youth soccer tournaments, which will commence in Denmark on Monday 24th July and will run through until Saturday 29th July.
The Dana Cup was established in 1982 and is renowned for being the world's most international youth soccer tournament with 90% of the competing teams coming from outside of Denmark. On Monday 24th July more than 1,100 teams from 45 different countries around the globe will come together with around 25,000 players aged ten to nineteen expected to participate.
KONAMI will be a primary sponsor at the Dana Cup this year giving participants and spectators the chance to enjoy the new PES 2018 game before its release, with the title also available to pre order that week. KONAMI will also put on a PES LEAGUE masterclass with finalists from this year's PES LEAGUE World Finals showing kids how the skills that they have learnt on the pitch can translate into the game.
Attendees will pick up top tips from some of the best PES players in the world providing advice around playing in tournaments and the different playing styles needed to succeed. There will also be highlights shown of the PES LEAGUE tournaments, including a recap film of the best highlights. Dana Cup participants will then be able to test their skills against the PES LEAGUE stars who took home big money prizes, including a $200,000 first prize, at this year's PES LEAGUE World Finals.
"We're very excited about this partnership because both of our brands are about bringing together young people from all over the world in the name of football," said Jonas Lygaard, Senior Director Brand & Business Development at Konami Digital Entertainment B.V. "KONAMI, prides itself on creating products and tournament competitions that are easily accessible for all and brings people together. PES 2018, and PES LEAGUE, brings together football fanatics from all over the globe in the spirit of friendly competition. The Dana Cup shares those same values and provides the perfect platform to introduce PES 2018 to the future stars of the football world. "
"I'm extremely excited about this new partnership we're entering in with KONAMI and we warmly welcome them as a primary tournament sponsor for 2017," said Jette Andersen, Director of the Dana Cup. "There is a familiar synergy between both partners, as we both aim to unite the youth of the world through a variety of engaging football events. The presence of PES 2018 is an extra benefit for our participants attending the Dana Cup Event. Those attending the event will have the chance to get their hands on the latest PES title before its official launch on September 14th which adds an extra spice to the social aspect of our tournament as well."
PES 2018 will be released for PlayStation®4, Xbox One™, PlayStation®3 and Xbox360™ on September 14th. The game will also be available via Steam in a version that has undergone substantial improvements in terms of aesthetics and content, ensuring the game enjoys parity with the current gen formats.