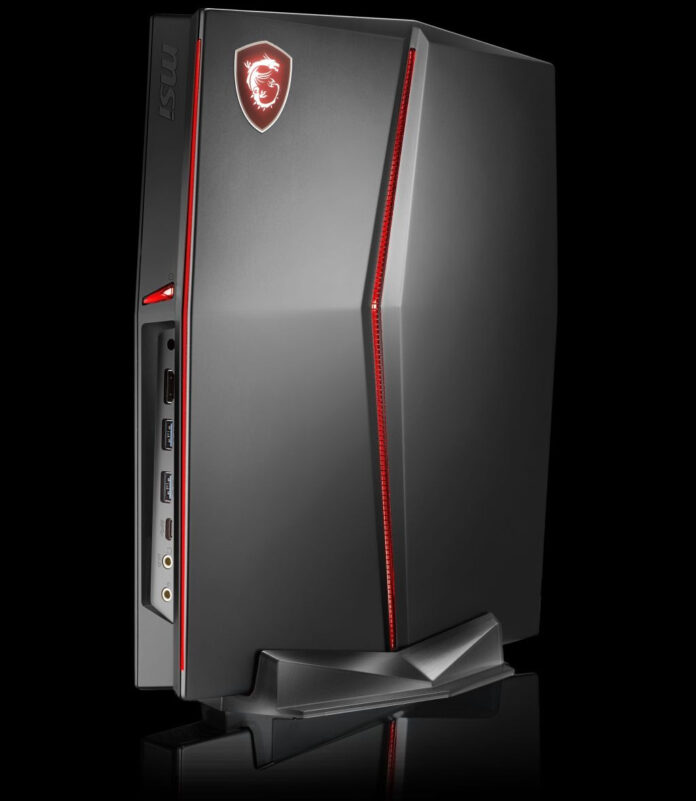 MSI barsler med en helt ny oplevelse for PC gamere, nemlig Vortex G25. Den har samme størrelse som en konsol men baseret på en Intel Z370 platform og findes i en model med et 1070 kort. Alt sammen med en volumen på 2,5 liter og en vægt også på 2,5 kilo. Vi har endnu ikke en pris eller hvornår du kan få den i butikkerne eller online.
What do gamers yearn for? Aside from the 5 gaming aspects (performance, visual, audio, streaming, and controls) MSI dedicated so much on, the real challenge is creating a compact gaming system with zero compromise. And the answer is right here, within the smallest & lightest gaming monster – Vortex G25. Vortex G25 ditches the cylinder shape for something closer to a stylized console at just 2.5 liters volume and 2.5 kilos. Let's check out the rest of what makes the Vortex G25 shine out in the crowded field for gaming desktops.
Latest 8th Gen Intel CPU inside
Vortex G25 adopts the latest Intel 8th Gen Core processor based on the new Z370 platform. The Core i7-8700 processor comes with 6 cores / 12 Thread computing, and a turbo mode overclockable from 3.2 GHz to 4.3 GHz (Multi Core). The Cooler Boost Titan, consists of dual Whirlwind Blade fans with 8 heatpipes and well-endowed airflows for both GPU & CPU, is able to enhance over 30% performance over its last generation. Vortex G25 can fully handle this incredible power with excellent Cooler Boost Titan thermal solution providing stability and performance.
VR Optimized Interface & Software
The Vortex G25 was designed for convenient VR application; the front panel has a power jack used to power VR headsets and HDMI, 2 x USB 3.0 ports for ultra-convenience. MSI VR Ready button & Nahimic VR provide the optimized performance and virtual surround sound effect to kick the VR experience up a notch.
Rapid Disassembly Design – Easy Repair & Upgrade
This compact gaming beast, equipped with pull ring slotted screws, provides a fast and easy way to remove the top cover for repair & upgrade of the dual NVMe M.2 SSD by PCIe Gen3 / SATA-SSD Combo slots, one 2.5″ Hard drive, and dual DDR4-2400 slots.
Hi-Res Audio Ready
The audio experience has also been improved with the ESS SABRE HiFi audio DAC, making Vortex G25 one of the very few Hi-Res Audio certified gaming system in the market. This grants Vortex G25 with 24bit/192KHz sampling rate, supporting the finest audio quality to any high-end headsets through the SABRE HiFi DAC.
Vortex G25 provides more Performance & Space
In the past, PC gaming systems are usually bulky and lack charisma; but MSI manages to put all extreme gaming specifications into a compact & asthetically appealing 2.5-liter chassis, not to mention its simple upgrade from any users. Power and size are no longer conflicting characteristics as users could place this spaceless system anywhere they desire. MSI once again redefines desktop gaming with this impossibly compact and incredibly powerful brand new product, the MSI Vortex G25.
If you need more detail information, please click the following link: http://www.msi.com
Specs and Features
Vortex G25 8RE
Processor: 8th Gen. Intel Core i7 Processors
Chipset: Intel ® Z370
Graphics: NVIDIA GeForce® GTX 1070, 8GB GDDR5
Memory: DDR4 2400 x 4 slots, Max 64GB
Storage: 1 x 2.5″ HDD + up to Super Raid 4 (2 x NVMe M.2 SSDs by PCIe Gen3 X4 in RAID0) (Optional)
Internet: Killer DoubleShot Pro with Killer Shield
Bluetooth v4.1
I/O: 1x Type-C (USB3.1 Gen2 / DP / Thunderbolt™3), 1x Type-C USB 3.1 Gen 1, 4x USB 3.0, 2 x HDMI (v2.0), 1x SPDIF, 1x Headphone Out (HiFi), 1x Mic In
Sound: ESS SABRE HiFi audio DAC technology / Nahimic 2+ Audio Enhancer
AC Adapter: 330W adapter
Dimensions: 279 x 43 x 331 mm, 2.5kg
Vortex G25 8RD
Processor: 8th Gen. Intel Core i7 Processors
Chipset: Intel ® Z370
Graphics: NVIDIA GeForce® GTX 1060, 3GB/6GB GDDR5
Memory: DDR4 2400 x 4 slots, Max 64GB
Storage: 1 x 2.5″ HDD + up to Super Raid 4 (2 x NVMe M.2 SSDs by PCIe Gen3 X4 in RAID0) (Optional)
Internet: GbE LAN, Intel 802.11 ac Wi-Fi + Bluetooth v4.2
I/O: 1x Type-C USB 3.1 Gen 2, 1x Type-C USB 3.1 Gen 1, 4x USB 3.0, 2 x HDMI (v2.0) , 1x SPDIF, 1x Headphone Out (HiFi), 1x Mic In
Sound: ESS SABRE HiFi audio DAC technology / Nahimic 2+ Audio Enhancer
AC Adapter: 230W adapter
Dimensions: 279 x 43 x 331 mm, 2.5kg