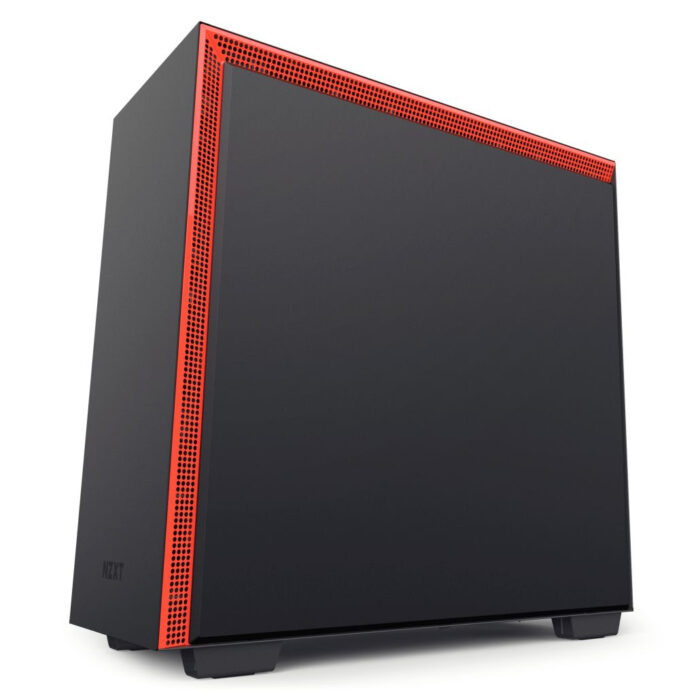 NZXT har en helt ny serien af kabinetter ude i form af H serien. Modellerne H700i, H400i og H200i inkluderer de nye GRID+ og HUE+ produkter. Prisen for H700i bliver ca. 1.500 kr. mens H400i rammer ca. 1.000 når den kommer i november mens H200i der kommer i december endnu ikke er prissat.
Each case comes build-ready with pre-installed RGB lighting and pre-wired Aer F fans*, saving the cost and hassle of adding RGB and fan controllers.

The Smart Device also adds an audio sensor to measure fan noise, enabling a new feature called "Adaptive Noise Reduction." This intelligent, cloud-based algorithm leverages the power of shared data and machine learning to develop fan curves that can reduce system noise by up to 40%. A patent-pending cable management system makes it easy to keep your system neat and tidy, without wasting time on your wiring. And finally, all H Series cases feature a tempered glass side panel so you can show off the stunning results of your build.

"We designed the H Series as a new approach to PC building. We want to make creating extraordinary PCs achievable and fun for everyone. PC builders should be able to benefit from the same features and design across different form factors. That's why all three cases in the H Series share the core smart features, modern design, and beautiful craftsmanship that are our vision for modern PC building," says Johnny Hou, NZXT's founder and CEO.
H Series main features
Modern aesthetics and builder-friendly features are delivered in three sizes: the H700i, a mid-tower ATX case; the H400i, a mATX case; and the H200i, a compact ITX case
The Smart Device, a built-in digital RGB and fan controller powered by CAM, simplifies installation and management of RGB lighting and fans, saving time and money
Premium, all-steel construction with the sleek H Series design; available in four color combinations
Tempered glass side panel showcases custom RGB lighting
Wire management is made easy by an all-new cable management system
Water-cooling installation simplified for both AIO and custom loop configurations
Adaptive Noise Reduction optimizes cooling and noise balance for the best gaming comfort
Smart controls that matter
The unique Smart Device includes features from our HUE+ and GRID+ V3 digital controllers, allowing for effortless control of RGB lighting and fans using CAM. Customized lighting is streamlined with integrated and individually addressable RGB LED strips. Don't waste time checking compatibility, installing, or manipulating physical buttons; our out-of-the box, elegantly controlled CAM software is all you need.

Beautiful craftsmanship
The H Series is available in four color combinations to match your taste, and its elegant all-steel construction is shared across all sizes. The tempered glass panel and signature PSU shroud showcase beautiful builds.
Enjoyable builds for all
Cable management can often take more time than assembly. We designed a new cable routing kit with pre-installed channels and straps, on the back of the motherboard tray, for intuitive and easy wiring. The H Series simple, builder-friendly layout ensures you'll enjoy building your PC as much as you enjoy gaming on it.
Streamlined cooling
We simplified water-cooling installation with drop-in brackets and integrated reservoir mounting for custom-loop systems. Aer F fans* are included for optimal internal airflow. To preserve your system's clean looks, front and PSU intakes are fully filtered.
Modern storage
Storage installation is a snap with quick-release 2.5" SSD trays on the PSU shroud. The H Series cases come with support for additional 2.5" behind the motherboard tray and mounting for traditional 3.5" drives. This storage layout optimizes airflow and interior space for a clean-looking build.
Adaptive Noise Reduction
Our unique Adaptive Noise Reduction uses an on-board noise sensor to measure and learn the specifics of your system to find the ideal balance between fan speed and cooling. With up to a 40% reduction in fan noise level, you won't need to waste time designing custom fan curves. And the adaptive noise reduction algorithm uses machine learning to improve its results, ensuring your fan settings are always optimal, even when you change your system components.
*Case version fans and specs vary from retail version
4 color options for all H Series cases:
Matte Black/Black
Matte White/Black
Matte Black/Red
Matte Black/Blue