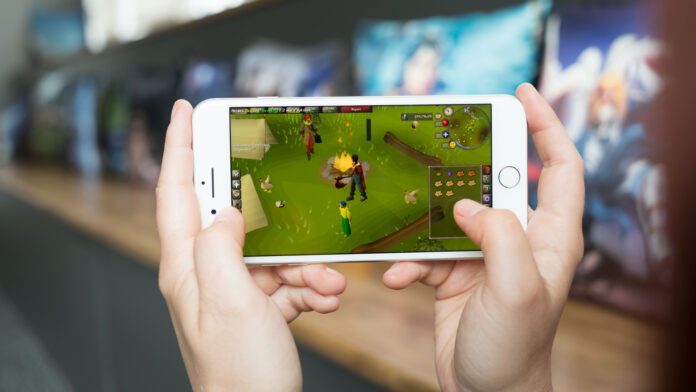 Spiller du RuneScape så har Jagex annonceret at både RuneScape og Old School RuneScape, de ikoniske massively multiplayer online role-playing games (MMORPG), bliver tilgængelig på mobiler og tablets i løbet af vinteren. Her er hele pressemeddelelsen:
The two titles will be the first mainstream and fully-established Western MMORPGs to deliver the complete MMO experience to PC and mobile platforms and feature full interoperable play, allowing players to jump from PC to mobile platforms and back again. Old School RuneScape is set to debut on mobile platforms this winter, with RuneScape to follow.
Extending RuneScape and Old School RuneScape's PC gameplay to mobile, interoperable play represents a massive advancement for RuneScape's legions of players. Players will be able to log out from their PC when they need to be AFK, and launch the mobile app to continue their adventure on the move, picking up from the in-game moment that they left it on PC… and vice versa.
Players will be able to have a RuneScape and Old School RuneScape adventure just on their mobile devices if they choose, enabling past RuneScape players who have moved from PC to mobile as a preferred platform, to reconnect with the game and their characters once again.
Neil McClarty, Senior Product Director, Jagex, said:
"As a MMO player, you ideally want to play at any time of the day or night no matter where you are. We know that our players' time is precious, and that's why want to give all RuneScape players, both present and past, the opportunity to play RuneScape on the go. The fact that they'll be able to play on their PC, leave the PC, and pick up their mobile and continue playing where you left your character will be a big deal for our players – there really will be no need for any XP waste."
Phil Mansell, Chief Operating Officer, Jagex said:
"This is a real step change for MMORPGs and a signal of Jagex's intent to continue to push the boundaries of live games. The RuneScape titles will become the first mainstream and established Western MMORPGs on mobile in full and the first to deliver interoperable play between PC and mobile platforms. We believe in taking our games to wherever our players want them; recent player surveys showed an overwhelming 90% of active players and 64% of former players telling us of their very high intent-to-play on mobile. Our innovative approach to mobile is also evidence of our ambitions in the mobile sector, and a further indication of our investment in extending the RuneScape franchise to additional devices and territories."