Så er der nyt fra Coatsink og udvikleren Sigtrap. Det er med annonceringen af at Sublevel Zero Redux udkommer til Nintendo Switch senere på året. Traileren ovenfor viser mere om hvad du kan vente dig af en shooter med 6 akser.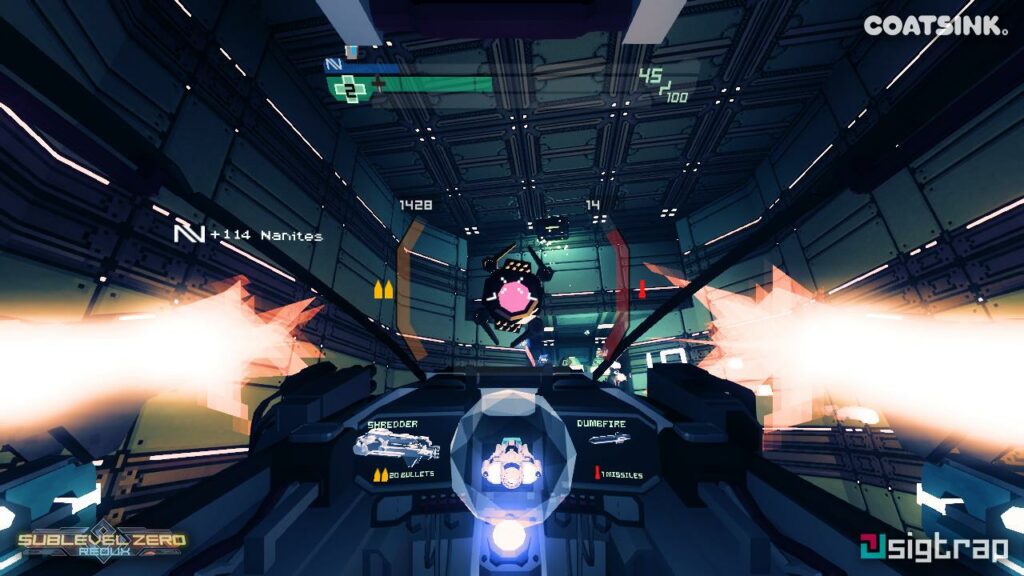 ABOUT THE GAME
Sublevel Zero Redux is a roguelite six-degree-of-freedom shooter set in a universe where reality is falling apart. With your gunship, fight in zero-g through a vast, procedurally generated underground facility to recover the technology you need to escape the many dangers hidden around every corner.
NINTENDO SWITCH™ EXCLUSIVE FEATURE:
Gyroscope controls – Get the edge over the enemy with increased precision using the toggleable Aim or Aim & Look gyroscopic control schemes.

KEY FEATURES:
6-DOF Action – Your gunship is free to fly and rotate in all directions. You can attack from any angle, and so can your enemies. Inspired by classics such as Descent and Forsaken, Sublevel Zero's retro gravity-defying combat is driven by modern looting and crafting.

Procedural,Permadeath – No lives. No saves. Fight your way through a different procedurally generated environment every time. Make every shot, every decision count. A wide range of environments stand in your way, from industrial zones to mining caverns. Think on your feet and adapt to each one's hazards before it's too late.

Crafting – Collect a wide range of randomly-generated weapons, upgrades and game-changing items. Craft them together to equip your gunship for your play style. Unlock more items and blueprints as you play and keep those unlocks across playthroughs.
'The creation of SubLevel Zero Redux was inspired by gaming classics from my childhood such as Descent on PC and Forsaken on Nintendo N64. We're thrilled to be bringing our homage to these games to the Nintendo Switch in collaboration with Coatsink.'
– Luke Thompson, Co-Founder – Sigtrap Games
'It's been great to work with the team at Sigtrap Games in bringing SubLevel Zero Redux along with exclusive gyroscopic controls and portable roguelite six-degree-of-freedom action to the Nintendo Switch.'
– Eddie Beardsmore, COO – Coatsink