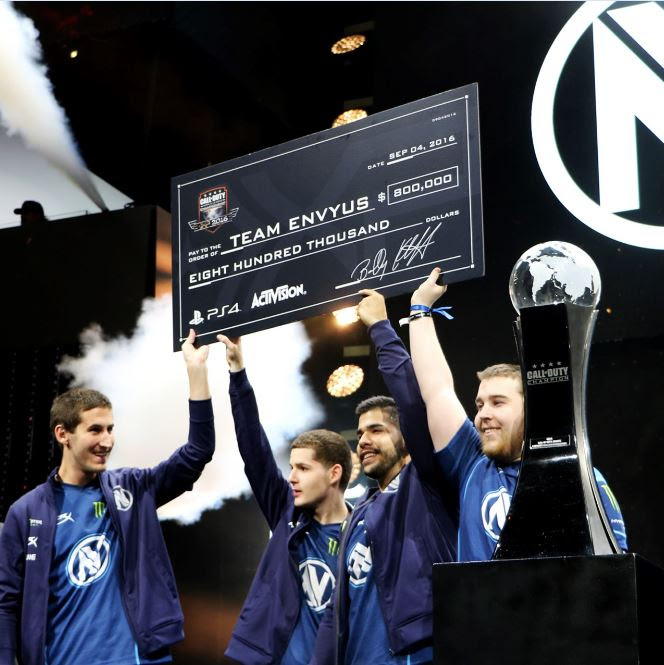 Det blev Team EnVyUs der løb ed de $2 millioner i præmie penge i Call of Duty World League (CWL) Championship præsenteret af Playstation 4. Det er den største præmiesum i Call of Duty's historie. Vi har sakset pressemeddelelsen:
Team EnVyUs is the Call of Duty® World League Champion. In a thrilling finale, Team EnVyUs overcame top European team Splyce in front of a sold-out, packed house at the Forum

Sunday

afternoon to claim the first ever title for the Call of Duty World League Championship, Presented by PlayStation® 4. Team EnVyUs took home the winner's share of the biggest prize purse in Call of Duty history of $2 million.

"Winning this event, in front of this crowd is a dream come true," said Jordan "JKAP" Kaplan, Team EnVyUs team captain. "The energy, the tension, and the competition were all amazing. This is a moment that I will remember for the rest of my life."

The competition was held in front of a sold-out audience of thousands of fans inside the Forum in Inglewood and shown around the world via Twitch, MLG.TV, YouTube as well as viewed in-game itself (Black Ops III PS4) on the Live Event Viewer. Heading into the CWL Championship prior to this weekend, Call of Duty competitive fans have already viewed more than 1.1 billion minutes of content across 100 million tune ins.

"Call of Duty XP was an epic fan celebration, and the perfect place to host the biggest Call of Duty competition in history." Said Rob Kostich, Executive Vice President and General Manager of Call of Duty, Activision. "The excitement and energy today was huge. What a great finals match and tournament. We created the CWL to celebrate great competition and the best fans in the world. Today lived up to every expectation. Congratulations to Team EnVyUs and thanks to the entire Call of Duty community for making Call of Duty XP the most amazing fan celebration in the world."
The final four placings for the Call of Duty World League Championships
1. Team EnVyUs (NA)
2. Splyce (EU)
3. Team eLevate (NA)
4. FAB Games (EU)

For a list of all final team placings, please visit www.callofduty.com/esports.
More than 1,000 teams entered the CWL competition, with the 32 most elite teams making it to the World Championships hosted at Call of Duty XP. The CWL Championship was part of the biggest ever fan celebration at Call of Duty XP 2016, at the Forum in Inglewood, CA. Call of Duty XP featured the debut and first hands-on for Call of Duty®: Infinite Warfare multiplayer. Fans were also among the first in the world to get their hands on Call of Duty: Modern Warfare Remastered multiplayer, new Call of Duty: Black Ops III Downloadable Content and a chance to play the first Call of Duty VR experience. Attendees also participated in several experiential activities inspired by Call of Duty, including Nuketown paintball, zombies laser tag and other events celebrating the critically-acclaimed game franchise.