ROCCAT har i dag løftet sløret for deres første USB mikrofon der giver følelsen af lyd på studie niveau. Torch vil sikre fejlfri 24-bit lyd kvalitet, ingen forsinkelse på lyden og indbygget pop filter, alt samlet i et kondensator design.  Det stilrene design understøtter selvfølgelig ROCCAT´s intelligente AIMO RGB lys, ingen installation af drivers nødvendigt, og den er kompatibel med en masse udstyr som man normalt bruger sammen med sin mikrofon.
"Vi vil skabe ideen om hvor nemt det er at føle sig som en professionel og det er let tilgængeligt for alle. Gamers ser deres favoritstreamer og bliver inspireret til at skabe indhold selv. Med en mikrofon i studiekvalitet er det ikke et luksus tilbehør, men noget man bare må eje. Torch har et slank look som leverer højkvalitets optagelser til en pris der er til at overkomme. Den ser fantastisk ud på dit skrivebord sammen med dine andre AIMO produkter." siger René Korte, ROCCAT stifter og General Manager for PC enheder hos Turtle Beach.
ROCCAT´s Torch lanceres den 15. august, 2021 til den vejledende pris på 799 DKK og kan forudbestilles hos udvalgte forhandlere i Danmark og fra www.roccat.com.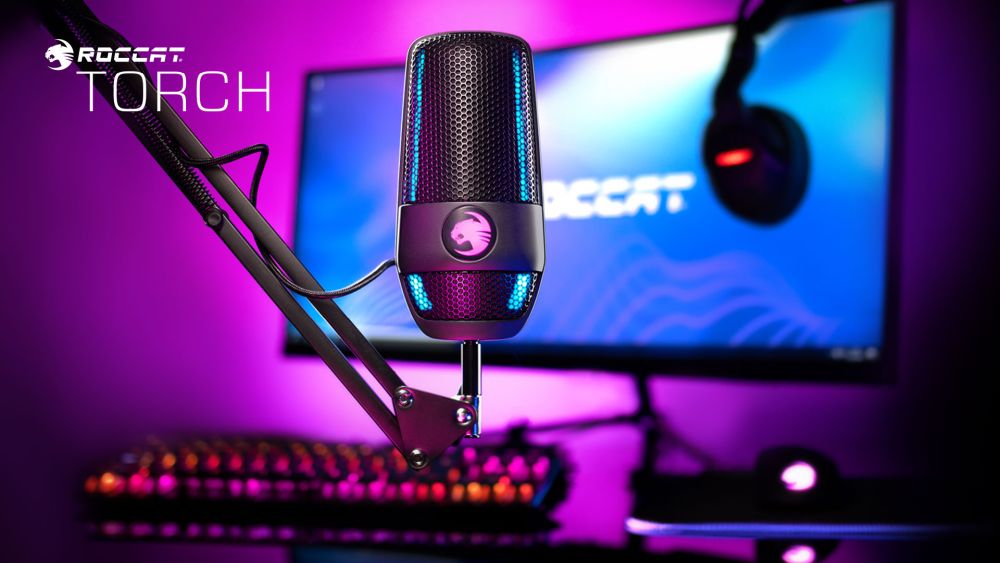 ROCCAT, Turtle Beach's (Nasdaq: HEAR) award-winning, Hamburg, Germany-based PC peripheral brand, today revealed the Torch, its first studio-grade USB microphone. Designed for gamers, streamers, and aspiring content creators, the Torch is packed full of professional-grade features, including 24-bit audio quality, a dual condenser design, latency-free Mic Monitoring, and a built-in pop filter. ROCCAT's Torch will ensure creators always sound flawless, and its stylish and intelligent design is compatible with a wide range of shock mounts, boom arms, and other accessories. The Torch microphone features ROCCAT's intelligent AIMO RGB lighting, and special lighting zones change color depending on the mic's settings. Additionally, driver-free setup makes the Torch simple to use right out of the box. ROCCAT's Torch launches August 15, 2021, and is available for pre-order today from participating retailers worldwide and from www.roccat.com.
"The Torch's distinct look, pro-level performance, and attractive price make it perfect to grow with you as you chase your streaming and content creation passions," said René Korte, ROCCAT Founder and General Manager for PC peripherals at Turtle Beach. "Gamers watch their favorite streamers and are inspired to create content themselves, and a studio-grade microphone is no longer a luxury, it's a must-have accessory. We're excited to enter a new PC peripheral category with the Torch, and to deliver another high-performance accessory that adds to our desktop ecosystem."
ROCCAT's Torch USB microphone features a dual condenser design, offering 24-bit audio with up to 48kHz sampling, ensuring a wide range of voices can be captured and perfectly broadcast. From simple whispers to loud and heated in-game reactions, the Torch delivers broadcast-quality sound for any content creator. Designed for streamers and aspiring content creators, the Torch comes with three pre-selected pick-up patterns for an effortless out-of-the-box experience. Users will be able to choose between Cardioid pattern – perfect for gaming and streaming; Stereo – great for vocals and instruments; and the Torch's exclusive Whisper pattern – to capture the quietest voices and whispers.
The Torch also features a myriad of quick and easy controls to deliver the best experience. Gesture-activated mute functionality provides a convenient way to instantly mute without disturbing the quality of the recorded content. For on the fly adjustments, the Torch's mixer-style controls allow gamers to fine-tune settings, control volume, and cycle through the different patterns with ease without having to install a single driver. The Torch also includes a 3.5mm headphone jack for latency-free Mic Monitoring.
Torch also includes ROCCAT's acclaimed AIMO RGB lighting, and distinct lighting zones that change color depending on the recording pattern selected or microphone mode. Fully compatible with a wide array of boom arms, the Torch can be reconfigured and adjusted while still allowing the mic module to sit on the arm – maintaining the full functionality of the mixer-style base.