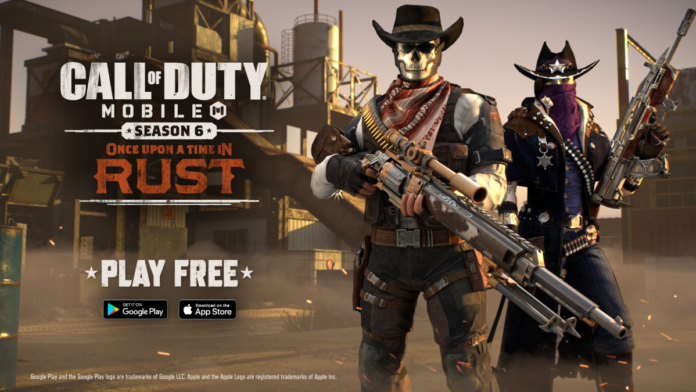 Så er der bare om at komme tilbage sadlen her hvor Call of Duty: Mobile Season 6 er gået i gang. Det bliver i western tema på både iOS og Android. Der er nye karakterer, nye skins og tre nye multiplayer modes.
The Battle Pass in Call of Duty: Mobile includes a free tiered system and a paid tiered system, the Premium Pass. Players can progress through both tiers simultaneously simply by playing matches of Multiplayer, Battle Royale, or limited time modes to earn Battle Pass XP. The more Battle Pass XP, you earn the faster you progress through the tiers, so start playing to earn rewards. Here's a look at some of the goods available in this Season Battle Pass and Premium Pass
Battle Pass
Once Upon a Time in Rust adds a new functional weapon — the Outlaw. First featured in Black Ops 4, the Outlaw is a powerful bolt-action sniper rifle that unlocks at Tier 12. At Tier 25 you'll gain access to the powerful Annihilator, a new Operator Skill that is capable of taking out enemies in a single shot. Operator Skills are earned over time in Multiplayer matches and can be equipped in your loadout, you can get an in-depth look at the other available Operator Skills here. Alongside the Outlaw and Annihilator, players will also earn new camos like the Bandit or Desert Snake camos for multiple weapons and Credits, the in-game currency you can use to purchase even more goods.
Premium Pass
Take over this town in style. Ghost – Cowboy and the Outlaw – Heat Stroke kick off the Premium Pass at Tier 1. Get this character and weapon fit for a long-range shoot out. Later in the Premium Pass at Tier 12, get Seraph-Desperada in her western-themed threads. Draw fast and look good while doing it.Smoke out your enemies with the new Heat Stroke camo series, weapons emblazoned with fiery camos that are scattered throughout the Premium Pass at Tiers 1 (Outlaw) 20 (M4 LMG) and 30 (LK24). Dedicated gunslingers can also progress through the pass to unlock the MSMC Wild West camo at Tier 50. In addition to these Premium Pass unlockables, players will find Call of Duty Points, Credits, and Crates that give you access to a trove of gear, weapon skins, camos, and more.
Capture the Gold & 1v1 Duel
Amass riches and prove that you're the best shot in town. Once Upon a Time in Rust launches with Capture the Gold, a twist on the classic Capture the Flag Multiplayer mode, and the brand new 1v1 Duel. In Capture the Gold, players must capture the enemy team's pot of gold and carry it back to their spawn. Similar to Capture the Flag, protect the gold carrier and deliver the pot of gold to score points for your team. Decide your role and choose between protecting your team's gold, working to capture and deliver the pot of gold to your team's spawn, or slaying enemies to clear the objective path for teammates. Be on your guard, particularly around pots of gold.For the first time, players will face off 1v1 in a new map, Saloon, a new map designed specifically for this mode. You'll be able to select your loadout, so consider packing a diverse punch to handle any situation you may come across. The first to seven kills wins the round, and the player who wins the best of three rounds takes the match. Keep an eye out this Season for some unique challenges and rewards you can earn during future events in 1v1 and Capture the Gold.
Rust Returns
The classic map is now live. Whether you've played Rust before or you're coming in new, this fan-favorite map is sure to get your blood pumping. Fight for the vantage point at the top of the central tower or dominate from below, weaving in and out of sight between the map's industrial obstacles. Get a head start on the competition with our Rust map overview. During the Season, dust the competition in the Rust the Dust event. Play a moshpit of game modes on Rust and complete a list of objectives to earn some western-themed gear. Test your draw and see if you can come out on top to earn the M4 – Bandit and the Backpack – Desert Snake. Rust the Dust started on April 29, so jump in now and get earning cowboy.