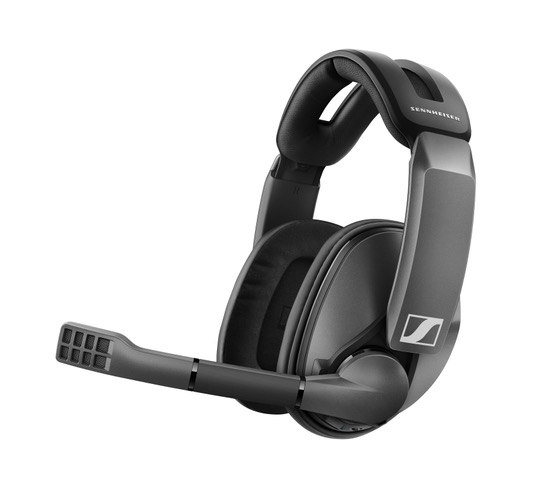 Sennheiser er aktuelle med deres trådløse GSP 370 gaming headset. Sammen med den trådløse USB adapter der passer til PC, Mac og PS4 kan du få en lydoplevelse der er tæt ved fri for lag samtidig med at den giver dig frihed uden kabel. Den har op til 100 timers batterileveltid.
Sennheiser Gaming Suite allows individual sound adjustments on the PC
The GSP 370 over-ear headset is based on the same closed acoustic design as the award- winning GSP 300. Integrated digital sound processing enhances the audio experience giving users exceptional bass performance and acoustic clarity. For a more personalized sound experience, the Sennheiser Gaming Suite for Windows® offers various surround sound modes, an equalizer, microphone options, and ready-to-use presets for typical genres and occasions, allowing you to adjust the audio to your own preferences.

Like all other Sennheiser Gaming headsets, the GSP 370 features a broadcast quality noise- cancelling microphone, which actively minimizes background noise and can be muted by simply lifting the boom arm. The game audio is synchronized with the Windows® volume control and can be adjusted intuitively via an integrated volume wheel on the ear cup.
Battery life of up to 100 hours
Thanks to a low power consumption and a long-lasting integrated battery, the GSP 370 has an exceptional battery life of up to 100 hours: gamers who play six hours a week on average can game for four months with this wireless headset before having to recharge. The GSP 370 is charged over micro-USB (cable included in the box) and can be used while charging.
Strong focus on wearing comfort
Sennheiser has designed the GSP 370 with a strong focus on wearing comfort. The split, padded headband reduces pressure on the skull while memory foam ear cushions provide a comfortable fit and isolate ambient noise. A clever ball-joint hinge automatically angles the ear cups to suit the shape of your face, while the ear cups themselves are shaped and angled to perfectly fit around the human ear. This makes the headset comfortable to use even during extended gaming sessions.

The headband is split and reduces pressure on the skull. Memory ear cushions isolate ambient noise and provide a comfortable fit.

"With the GSP 370, we are adding another wireless gaming headset to our portfolio that not only features our highly praised low-latency connection, but also provides an impressive battery life. All this is rounded off with the typical Sennheiser virtues: high wearing comfort, premium craftsmanship and an exceptional audio experience", says Andreas Jessen, Director of Product Management Gaming at Sennheiser Communications A/S.
Price and availability
The Sennheiser GSP 370 is now available in Sennheiser's web shop (https://en-us.sennheiser.com/gaming-headset-wireless-gsp-370) at a recommended retail price of €199. If you purchase the gaming headset from the Sennheiser website, you will also receive the GSA 50 headset hanger (value: €34,90) free of charge.