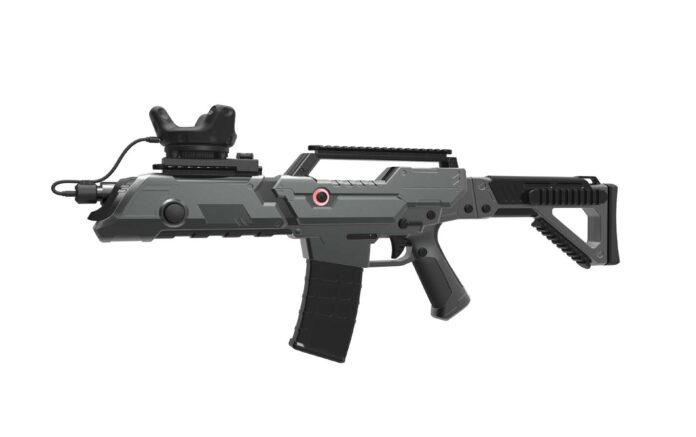 Så har HTC annonceret deres Vive Tracker og Vive Deluxe Audio Strap. På billedet ovenfor så er Vive Tracker den lille dims med tre flanger (eller vinger) som er på løbet af geværet. Den kan monteres på et stykke rigtigt udstyr og så programmeres med dimensionerne for enheden som så afspejles i den virtuelle verden. Temmelig teknisk som du kan læse herunder:
HTC VIVE™, recognized by the industry as the leading Virtual Reality (VR) product, expanded its VR ecosystem by  announcing pricing and availability dates for the Vive Tracker and Vive Deluxe Audio Strap.  The Vive Tracker, built to empower developers and accessory makers to make VR even more immersive, will be available on March 27 for developer purchase through Vive.com. The Vive Deluxe Audio Strap will go on sale for pre-order on May 2, with expected delivery in June. Both products will be available for a suggested retail price of $99.99 (€119.99, £99.99, ¥799.00).
"We see an incredibly strong future for VR, and have created an entire ecosystem around Vive. The Vive ecosystem is evolving, adaptable and will continue to grow to drive the industry forward," said Daniel O'Brien, GM VR, US, HTC Vive. "The Vive Tracker is a key piece of that strategy and when paired with Vive technology and programs such as Viveport and Vive X, represents a significant opportunity for us and our partners to make the Vive ecosystem synonymous with the growth of VR."
Vive Tracker Expands the Vive Ecosystem
Vive will further expand the industry's leading VR ecosystem by allowing developers to bring real-world objects into VR and dramatically expand the capabilities to create even more amazing VR experiences. Vive has already received over 2,300 applications for the first 1,000 Vive Trackers. Applications crossed a wide spectrum of non-gaming applications of VR areas such as Education, Enterprise, Training, Health and Wellness and more. In fact, nearly 60% of applications were non-gaming or non-entertainment content.
"Building an object that can be tracked alongside the Vive can be complex." said Joe Ludwig of Valve. "But the Vive tracker makes tracking objects in VR so simple that anyone can do it. We're thrilled that HTC has developed this product and we're looking forward to seeing what people build."
The Vive Tracker will be available for purchase in two phases.  The Vive Tracker will first be on sale for those looking to create Vive content by March 27.  General consumer availability of the Vive Tracker is expected later in the year, as the accessories and content ecosystem for Vive Tracker is built and new accessories are ready to purchase for consumers.
Island 359 developer, CloudGate Studio is just one of the early adopters of the Vive Tracker. CloudGate is using multiple Trackers for full body awareness of players within their action-shooter Island 359. The technology will be on display at GDC in Valve's booth on Wednesday, March 1, and in a private meeting suite throughout the show. Contact @CloudGateStudio on Twitter for appointments.
"We've been experimenting with full body motion control since we first got our hands on the Vive, but it was never quite right," said Steve Bowler, President of CloudGate Studio. "Using the Vive Trackers we've been able to push the limits of VR and create our Virtual Self system, which lets players see and use their full body in VR. You can now comfortably kick objects, see yourself crouching, and even lie prone with one-to-one accuracy in 'Island 359.'"
Vive Deluxe Audio Strap
The Vive Deluxe Audio Strap combines integrated audio with new comfort features, ensuring a more comfortable feel during long sessions. The Deluxe Audio Strap features a new sizing dial that enables quick adjustments for single or multiple Vive users, making it much quicker to jump into a VR environment.
Going forward, all new Vive BE sales will include the Deluxe Audio Strap with every purchase. Customers will receive their Deluxe Audio Strap with general consumer availability in June.