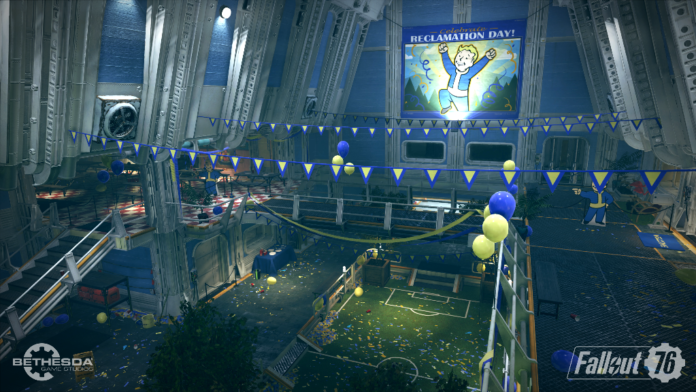 Hvem drømmer ikke lige om et svalt øjeblik? Så kan du fejre midsommer i Fallout 76 bunkeren. Her er dejligt. Vi har sakset pressemeddelelsen:
Here's our take on how to give a vault dweller some advice on how to re-create Midsummer celebration of summers long gone.
Remember what your grandparents used to tell you when you were little. Do you remember the stories about long light nights, eating herring, dancing around the Midsummer pole and celebrating summer outside in the green grass and fresh air?
Those days are long gone but there is no need to forget our heritage and traditions! Below are some easy-to-do activities to commemorate Midsummer and celebrate just like grandmother did when she was a kid.
Midsummer pole
One of the most important aspects of Midsummer. Traditionally the pole was made out of wood, shaped like a giant cross and stuck into the ground. Later it was decorated with leaves and flowers. As a apocalypse style Midsummer's pole we recommend metal poles, or pipes of some sort to form the base. Then decorate it to your hearts content with whatever is at hand. Perhaps some barbwire, old socks, string and tumbleweed?
Games
Ever heard the song "Little Frogs?" No? Then you've missed out. Traditional Midsummers celebration included singing and dancing around the pole. The song Little Frogs would have you squat on the ground, jumping around the pole like a frog. Yes, you heard that right. The later Midsummers games included more grown up games, like drinking games, or as it was called "snapsvisor." This was basically a toast with a song.
Food
Traditional Midsummer food was usually seasonal delicacies you could find in the Nordic countries: Herring in a dozen different flavored sauces, freshly picked potatoes, maybe some eggs or meatballs, and of course fresh strawberries, still warm from the sun. Sometimes someone had made a little extra effort, and made a strawberry cake with sponge cake and whipped cream.
"Floral" wreath
Birch branches weaved together with freshly plucked flowers made the perfect Midsummer's wreath. Then placed upon the head as a gorgeous decoration until it fell apart about an hour later. Don't have access to flowers and birch branches? We understand. You can always weave together some barbed wire and tumbleweed, just like the Midsummer pole. Matchy-matchy!
Typical Midsummer weather
There wouldn't be a traditional Midsummer without horrible weather. Typically it would be cold and rainy, sometimes even windy. Enough to make you wonder what season it really is. To commemorate this you could easily just use a fan, and the bunker's built in sprinkler system. To make it even more like the traditional celebration, don't forget to dress up in Midsummer attire to make you even colder!